News
Students Stage Walkout for Palestine, Call for Admin Action
During a walkout last Wednesday, students demanded the college divest from weapons companies doing business with Israel, cut a study abroad tie to Haifa University, and issue an administrative statement condemning Israeli violence.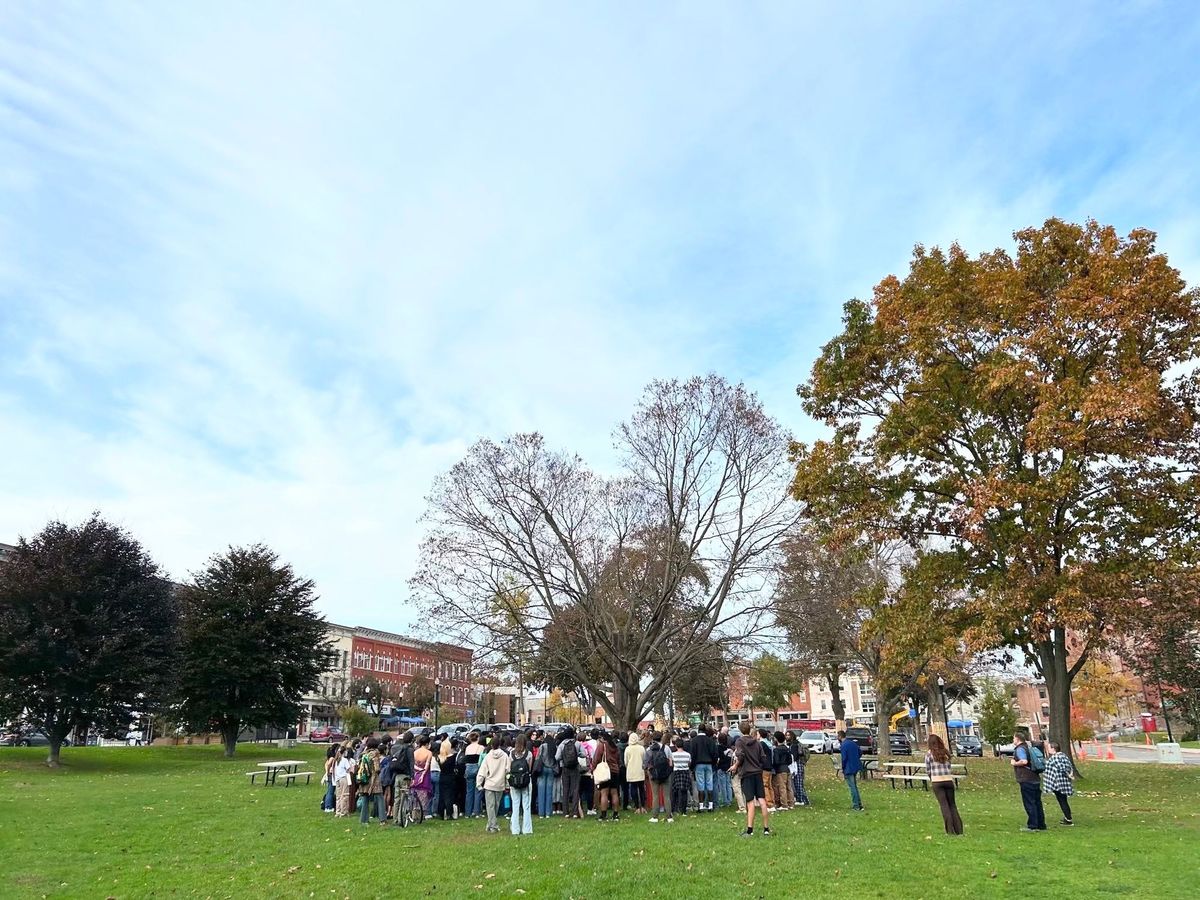 Dozens of students and faculty members walked out of classes and onto the Town Common at 2 p.m. on Wednesday, Oct. 25, chanting "free, free Palestine" and holding signs condemning the Israeli government's actions in Gaza and the West Bank.
The protest, which occurred simultaneously with walkouts across the Five Colleges and other universities and colleges across the country, came amid a climate of fear about the consequences of pro-Palestine speech. In the interest of anonymity, organizers handed out face masks and encouraged attendees not to take photos that included faces.
The walkout centered on a list of three demands directed at the administration.
In an opening speech, organizer Caden Stockwell '25 called for the college to divest itself of shares in "weapons companies like Leidos and Boeing" doing business in Israel; sever its study-abroad partnership with Haifa University in Israel, which he described as having an "apartheid" system against Muslim students; and release a statement condemning the Israeli violence in Gaza.
"This will not be the last of these events," Stockwell said. "Only when our demands are met and the Palestinian people are liberated will we stop."
In a statement to The Student, Chief Communications Officer Sandy Genelius pushed back on some of the claims made by protestors.
Genelius pointed out that the two companies cited by the organizers were held not by the college itself, but by the student investment club, which is subject to the college's investment restrictions but operates independently.
She also said the college has no direct partnerships with Israeli universities, only pre-approved study abroad programs.
As for Haifa University in particular, Genelius wrote, "Haifa University has a renowned Arabic language program; in at least the past 15 years, we have not had any Amherst students study there."
While many uphold the university and city of Haifa as models of Jewish-Arab coexistence, the school has faced accusations of discrimination in the past. Haifa University recently suspended several Palestinian students for online statements about the conflict.
Despite concerns about consequences for pro-Palestine speech, the walkout drew a sizable crowd, which assembled around a table on the common. For close to an hour, more than a dozen speakers, few of whom chose to introduce themselves by name, took turns on the table top. Speakers condemned Israel's siege and bombardment of the Gaza strip, spoke to the emotional toll of the news of violence, and decried the lack of a statement from the administration condemning violence in Gaza.
Speakers included representatives from the Muslim Student Association, the Middle Eastern and North African Association, and the Black Students Union.
Many spoke to the sense of togetherness inspired by the walkout.
"As I look around, I'm very happy to see different people, different ethnic groups, standing in solidarity," said Mohammed Alausa '24, one of the speakers. "One thing we must do is continue to fight the good fight"
Also in attendance was a contingent of faculty members. Professor of Anthropology Christopher Dole took the megaphone to read aloud a recent letter to the editor published in the The Student, cosigned by a large group of professors, calling on the college to use its platform to push for a ceasefire in Gaza.
A major point of contention for multiple students who spoke was President Michael Elliott's Oct. 11 community-wide email. "I have been appalled by the images and accounts of the violence and acts of terror against Jewish people and other Israelis," Elliott wrote. "I am also anxious about the potential for further loss of life of Israelis and Palestinians in the coming days and weeks."
On Oct. 11, over 900 Palestinians had been killed by Israeli airstrikes in Gaza, and more than 8,000 Gazans have now died since Oct. 7.
Following an address before the Association of Amherst Students on Monday, Oct. 30, Elliott said he was not planning to make any further statements about the conflict.
The organizers of Wednesday's walkouts said they were inspired to act by their sense of a conspicuous lack of political action on the issue at Amherst.
"There was just a lot of silence," said Stockwell in an interview with The Student. "People were posting on social media … but in terms of actual, tangible action, nothing was really happening."
This was a major contrast to other Five College institutions like Smith and UMass Amherst, he said, which both have well-established Students for Justice in Palestine chapters that quickly sprung into action after Israel began to launch airstrikes in Gaza. At UMass Amherst, a pro-Palestine sit-in led to the arrests of 57 students.
Stockwell said the organizers engaged in research on the college's stock holdings and study abroad partnerships in order to formulate the list of demands.
They also sought to ensure that the protest avoided antisemitic rhetoric, he said. Multiple speakers condemned Hama's Oct. 7 attacks, which ignited the broader conflict and killed more than a thousand Israelis, and the protest included the reading of a statement written by an anonymous Jewish student. Stockwell also said that organizers opted not to use the pro-Palestine chant "from the river to the sea, Palestine will be free," which Jewish organizations like the ADL have described as antisemitic.
"We made a decision — we're not going to say that, even though it's the most recognizable and most well known pro-Palestine chant," he said.
Students who attended the protest said they appreciated the sense of solidarity it instilled, and indicated that there was much room for further actions.
Though she said that no single protest could make a difference on its own, Sarah Hasegawa-Howard '25 still found Wednesday's turnout encouraging.
"At the very least, it was great to see that other people cared," she said.
Correction, Nov. 2, 2023: An earlier version this article included a statement from Genelius, the college spokesperson, that said investments held by the student investment club are not part of the college's endowment. This is incorrect. Although they are managed independently by the club, these investments are still a part of the endowment and subject to the college's investment restrictions.