Homecoming
The Art of Place and Translation — Alumni Profile, Michele Berdy '78
Michele Berdy '78 has explored the intricacies and evolution of the Russian language, even after she fled Moscow.
When I spoke with Michele Berdy '78, she had just arrived in Washington after a transcontinental flight from Latvia. Despite the jet lag, she was energetic and excited to talk about her experiences with the Russian language and her time at Amherst. Her speech sounded like well-composed prose, with picturesque metaphors and strong narratives that emphasized her skills in translating and interpreting into English.
Today, Berdy is the arts editor at The Moscow Times, an independent English- and Russian-language newspaper, and lives in Riga, Latvia, where she and her dog fled after Russia's invasion of Ukraine. Even after decades of studying the details of the Russian language, she is still passionate about it and the art of translation, a love she first found during her college years.
Exploring Russian at a Co-ed Amherst
Berdy began studying Russian in high school and continued at Smith College, where she first matriculated. Her decision to learn Russian was in part fueled by her heritage. "My parents were born in the U.S., and my mother's family came from the Russian Empire," she explained. "I didn't grow up in a Slavic household — my parents were trying really hard to assimilate, so we only spoke English."
Amherst College began admitting women in 1975. After taking a few years off of college, Berdy was in her sophomore year at Smith and had been taking Russian courses at Amherst, but at that point in the year, it was too late for her to apply as a transfer student. She took another year off and studied part-time at Connecticut College in order to begin studying translation. "There was a professor I wanted to work with there," she said. "I wanted to become a translator even though I had no idea what translation was."
She transferred to Amherst for her junior year, largely because of the college's strong Russian department.
Berdy stayed out of the social life at Amherst, saying, "It was still pretty frat boy. I've been glad to see Amherst shut that [culture] down."
She lived off campus but thinks back fondly on her time in the Russian community around the Five Colleges. In particular, she reflected on when Joseph Brodsky, a Russian poet who won the Nobel Prize for Literature a decade later, lived in Holyoke and often recited his own poetry in the original Russian at public readings. "It was like going into a church and listening to this kind of wild priest or something utter an incantation to the crowd," she said. "It was just the most exciting and fascinating and intellectually stimulating thing I'd ever heard."
She also had the opportunity to work with a Russian emigré who was teaching at Amherst and spent a semester reading Anna Akhmatova's "Without a Hero," which, while difficult, presented a completely new world for her to explore. To Berdy, Russian was an outlet for intellectual stimulation and a means of exploring emotion through words.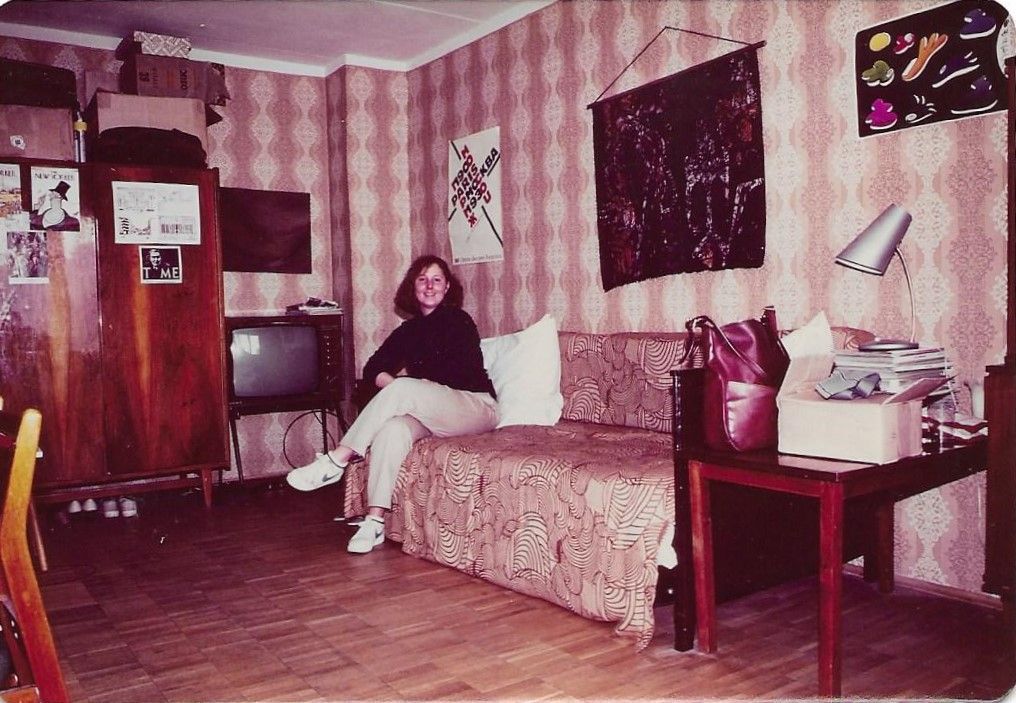 From Massachusetts to Moscow
It's fair to say that Berdy understands contemporary Russia better than most. After graduating in 1978, Berdy moved to Moscow, where she remained until March of this year. She has lived through Mikhail Gorbachev's perestroika reforms, the fall of the Soviet Union, the establishment of the Russian Federation, and the rise of Vladimir Putin.
She worked as a translator and interpreter throughout her time in Russia, though in various sectors. In 1989, she was hired for her first simultaneous interpreting job on a series of documentaries called "Inside Gorbachev's USSR with Hedrick Smith."
She taught herself to interpret, as she never received any formal interpretation training, before switching to television production and finally health communications, a field in which she worked for about a decade.
In 2002, Berdy started working for The Moscow Times, an independent publication that is not affiliated with the Russian government. At The Moscow Times, she took over The Word's Worth column, which covers the intricacies of the Russian language and the art of translation for English speakers. She takes great pride in maintaining the column to this day. "A column about Russian grammar that goes on for 20 years is, I think, a fabulous achievement," she said. Her most recent article concerned the possible ways of addressing a mistake in Russian.
During her time at The Moscow Times, Berdy has also branched out to writing about daily life and culture in Moscow, and she became the newspaper's arts editor in 2015, a position she still holds.
From Russia to Latvia
Two weeks after Russia invaded Ukraine, Berdy escaped to Latvia with her dog. She had lived in Moscow for more than 40 years. She noted the irony of the situation, saying, "100 years ago, my grandparents were fleeing the villages that they were born in for a better life … and then 100 years later, I packed up a suitcase and in four days I essentially fled overland with my dog out of Russia, leaving everything behind. … Here we are 100 years and three months later, doing exactly the same thing."
She detailed her relocation in an article that was published in the Summer 2022 edition of Amherst Magazine.
In Latvia, she's continued to write for The Moscow Times, which has been banned in Russia for its anti-war position, but which still has a strong online presence. Berdy says that the Russian department at Amherst prepared her to critically examine Putin's Russia. "I do think that the people that I listened to and worked with at Amherst were on the dissident side of Russian culture, and I really think that set me on the path that I went on, and I suppose, in a way, prepared me for packing up my suitcase … and fleeing Russia."
Berdy continues to explore the Russian language and its relationship to English through her column, but she hasn't lost her love of translation. Currently, she's working on translating six stories by Nadezhda Teffi, a turn-of-the-century humorist writer. "When you translate, you see from the inside and kind of deconstruct it to some extent," she said.
Since she started translation, the field has changed drastically. "There was almost nothing [written] on translation from Russian at all," she said. "As I was translating, I would come up with rules for what you do. … Now, there is this huge body of practical and theoretical knowledge out there, and it will help, but a lot of [translating] is just practice."
Today, there are entire M.F.A. programs dedicated to the art of translating, as well as many language-specific workshops, some of which Berdy has taught herself. At one point, she even taught in the Department of Translation and Lexicography at Moscow State University.
For the aspiring translator, she warned that it is not a very high-paying job ("I have a knack for working in professions that pay terribly," she joked), and that it is difficult to make a living without a professorship or a technical specialty. However, she emphasized the excitement of translation, and while describing the hunt for an equivalent English word or talking about the connotations of Russian words throughout the years, it was clear that she's no less enthusiastic about it now than she was when she graduated from Amherst.
Although Amherst provided Berdy with a robust educational foundation and deep cultural knowledge about Russia and the USSR, it helped her cultivate a critical eye. "That kind of grounding that was at Amherst of the intellectual dissident in you set me off into the world," she said.
For an American translator working at an independent Russian newspaper during Putin's reign, the ability to persevere and remain vigilant is essential. Berdy is grateful that Amherst provided her with that.