Features
The Paper Pipeline: How 5-College Texts Circulate
How do loaned books get from Frost Library and the other colleges into library users' hands? The Student tracks the journey of a library book through the Five College Deliveries (FCD) system as it moves around the consortium.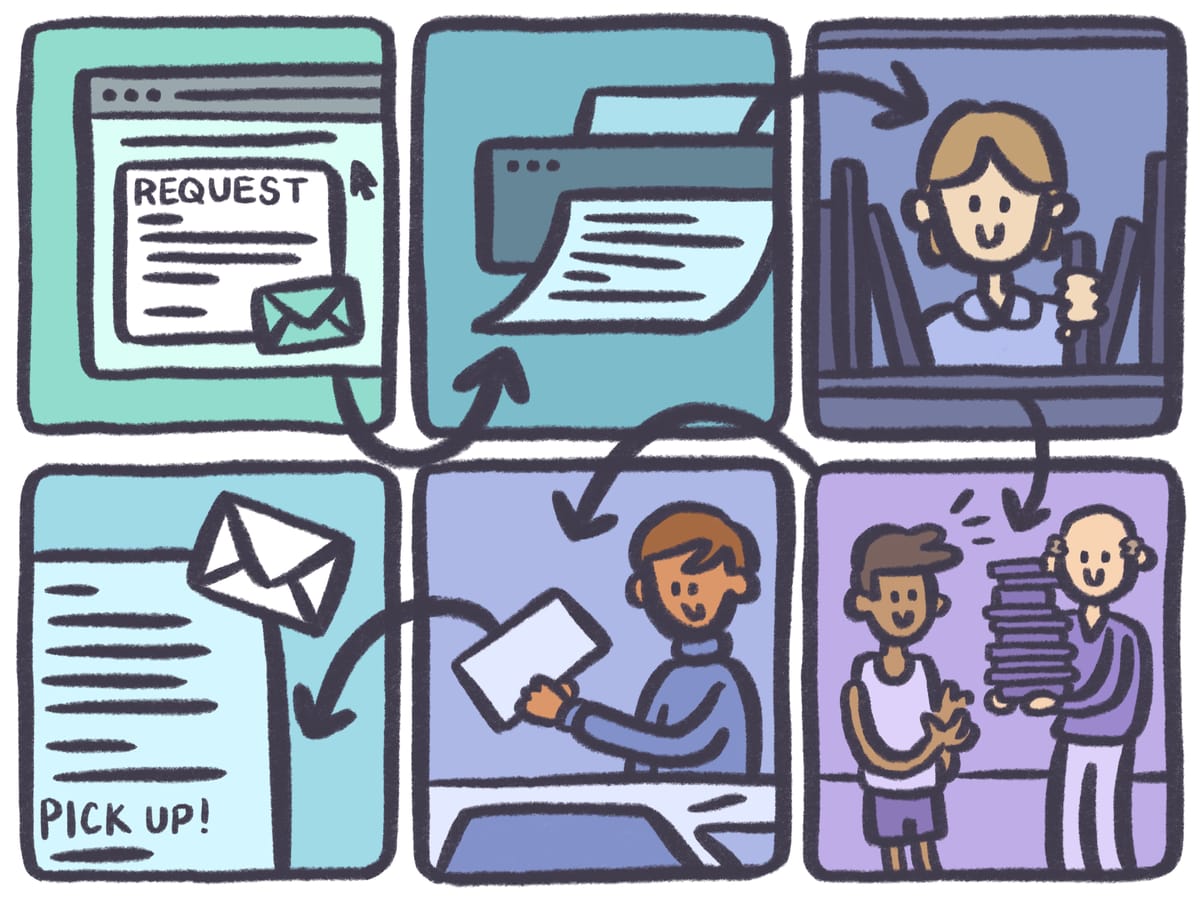 Frost Library is filled with over 1.3 million print materials, but occasionally, a book you need for your final paper (or a novel to distract you from your final paper) won't be on the shelves. You'll check in the library catalog to try locating it, and you might see that it is available — but at Smith College, UMass Amherst, Hampshire College, or Mount Holyoke College. Or, you'll see that a book is available at Frost, but you don't have the opportunity to go to the stacks and look for it right then. Either way, you'll press the "Place Request" button above the book, and only a day or two later, you'll receive an email telling you that your hold is ready.
But how do your loans get from Frost or the other colleges and into your hands?
This process is known as Five College Deliveries (FCDs) and it's a major part of Frost Library's operations. Since the Five Colleges are so interconnected that they share the same online library system, part of the process is automatic. However, student library workers do most of this work — one to three of them process and fulfill these requests every day. I am one such worker, and I have been working with FCDs for four semesters. Searching for materials in this literary treasure hunt is one of my favorite parts of my job.
The first thing that happens after you place a book request is that a slip is printed for that request. The online system prints slips for each request that has been made. The number of slips fluctuates depending on the point in the semester. Requests ranged from 32-71 each day during this past March, according to Christina Raus, access services supervisor. On Monday through Thursday, Frost fulfills requests twice a day: in the morning and at night. On Friday, they retrieve FCDs once in the morning, and during the weekend, they do it once in the afternoon.
All of the request slips coming from both Amherst and Five College patrons include the student's name, date of request, the title of the material, and, most importantly for the workers, the call number for the material. Either a student worker or supervisor will sort the requests by floor, and the worker will get the outgoing materials from the stacks. With the exception of reference books, microfiche/microfilm, archival documents, and reserve materials, everything in Frost is requestable, and workers retrieve books as large as oversized art volumes and as small as thin zines for patrons. They check the materials in (not out!), and at this point, the materials requested by Five College and Amherst patrons diverge.
Each worker has their own strategy for this. Some complete one floor, checking in all of the social science and history books before moving onto DVDs and fiction; others prefer to do it all in one go. I personally complete the route at once, organizing materials by destination to make it easier for me later.
Amherst students and faculty immediately receive an email when their requests have been checked in. The worker will place them behind the circulation desk in order by last name, alongside the other requests from that week, and when the patron comes to get it, the desk worker will receive an alert that there is a book or DVD (or two, or three, or even more) waiting for them. It is a typical check-out procedure from there, with the same three-month loan period as other books.
However, checking in materials from Amherst so that they can be sent to one of the other Five Colleges only alerts the system that it is on its way. It is sorted into one of four bins, one for each of the other colleges, and awaits pickup.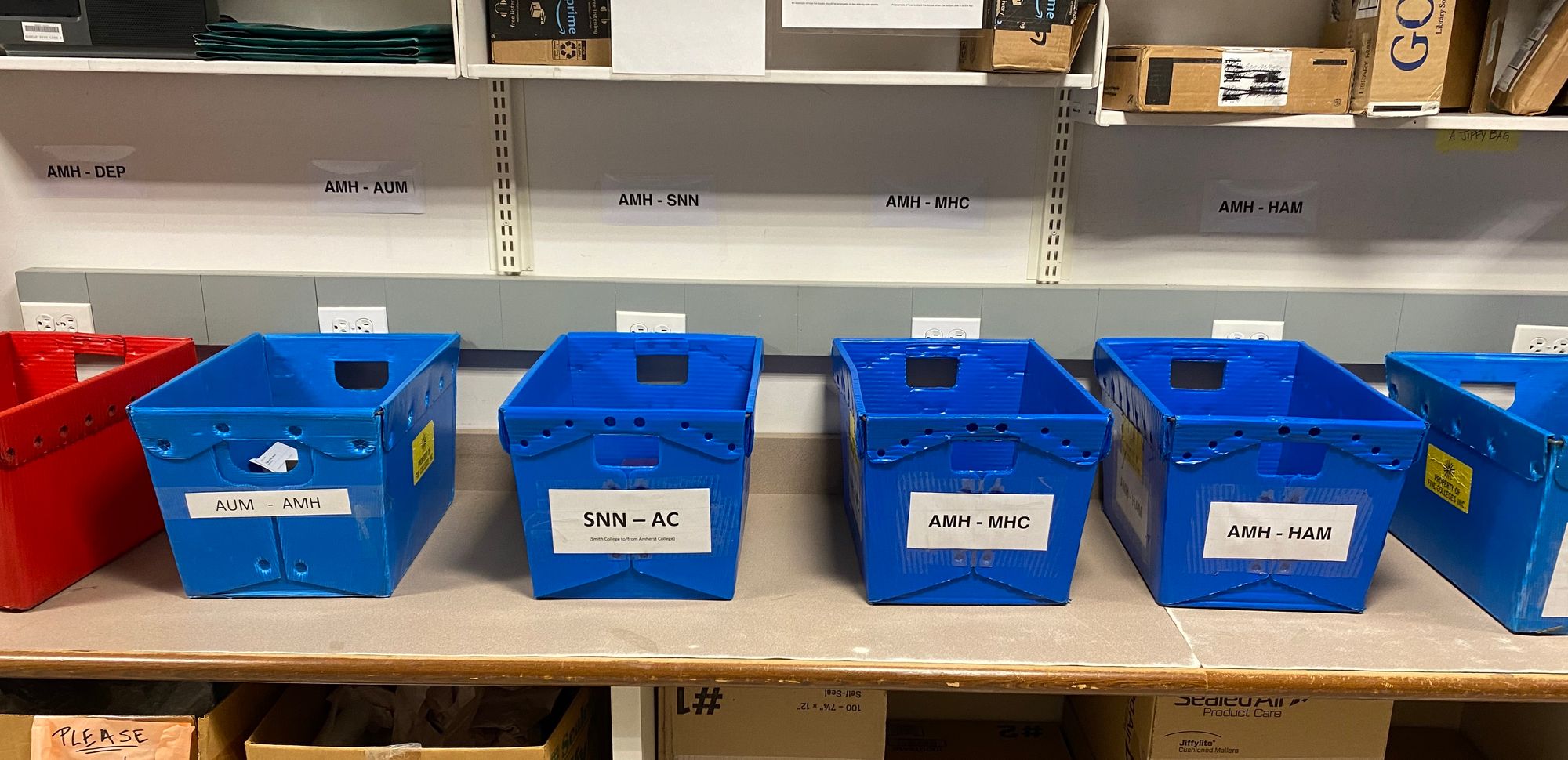 I spoke with the Five College Courier Randy Sexton about his route: Every weekday, he travels throughout the Consortium delivering FCDs and mail. He begins at the Five College Center in Amherst. "From there, it's like a big circle," he said. He goes to UMass and picks up FCDs, then to the Five College Consortium's Annex in Hatfield to check for book requests from the repository. The Annex, along with the Bunker in South Hadley, are collectively known as the Repository Collection, and hold about 820,000 less-circulated materials from all of the Five Colleges.
After that, Sexton travels to Smith, Mount Holyoke, and the Bunker. "Here I will pick up any requests from the campuses [from the Repository Collection]," he said. The Bunker is a retired Cold War-era Air Force shelter built into Bare Mountain that is now used for archival storage. Sexton then travels to Hampshire and finally to Amherst.
After that, Sexton reverses his route, dropping off any requested materials. "Most requests are promised in a 24-hour period and this process assures that," he said. Amherst is the only one of the Five Colleges that does not include a second stop, so incoming materials are only processed once a day.
The process for incoming FCDs is similar to requests from Amherst patrons from Frost. Books from the other colleges are checked in and added to the hold shelf. All of the slips on the hold shelf are dated, and if a book isn't picked up after seven days, it's reshelved or sent back to its original library. Workers also reshelve any return books from the other colleges. Processing incoming books takes less time than getting materials to send to the other institutions, and it takes place almost entirely in the circulation office. This is often workers' first shifts working with FCDs, and when I began at Frost, I was always surprised at the sheer amount of material that circulated through the Consortium each day.
The Five College libraries strive to deliver books in one business day, although if the material isn't within the Five College system, you can request it through the Interlibrary Loan (ILL) system. This is an entirely separate branch of the library with different student workers, but when books are requested from Amherst through ILL, students often pull these from the stacks alongside FCDs. The ILL workers then process these separately from FCDs. When students request ILL materials from other colleges, they are physically mailed, so it could take a few weeks to arrive at Amherst.