News
ACPD Unmarks Vehicles, Prompting Student Concern
The Amherst College Police Department (ACPD) recently made its fleet of five vehicles entirely unmarked. While the department states that this choice was an attempt to reduce police presence on campus, students report feeling increased fear and uncertainty from the change.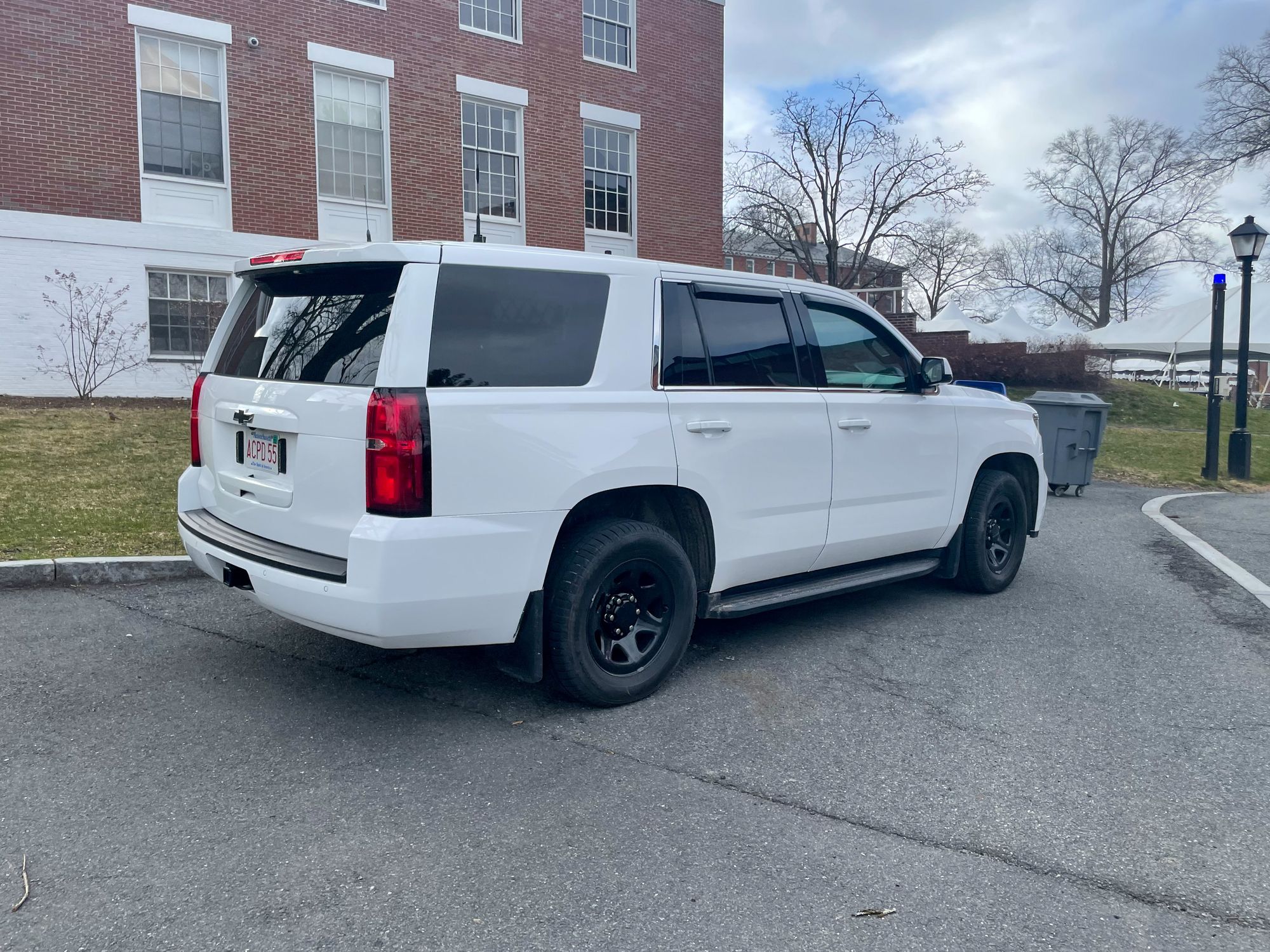 Content warning: this article contains mention of police violence.
Over winter break, the Amherst College Police Department (ACPD) removed the labeling from three of its vehicles, making its five-vehicle fleet now entirely unmarked. While Chief of Police John Carter stated that unlabeling the vehicles was an attempt to reduce police presence and help students feel more comfortable on campus, students shared that this change makes them feel unsafe, and has left their desires for policing change unfulfilled.
ACPD had already been using two unmarked vehicles to complete administrative, non-patrol tasks, but has now unmarked its remaining three other vehicles, which are driven by sergeants and detectives and used for other officer duties. The vehicles remain fully equipped with visual warning systems, medical supplies, and other emergency equipment.
Carter said that the decision was rooted in "various listening sessions over the past two years [where] community members have spoken about policing on campus and indicated that the visual presence was unwelcome."
The unmarked vehicles are "intended to be less intrusive to individual people's sense of safety," said Carter, and are part of the changes to reform campus policing. "There is less of a focus on preventive patrol, which is the general function of marked cars and uniformed police. For that reason, we assumed that the lesser visibility of police decals would be a welcome change," he said.
The assumption that the unmarking would be a welcome change was largely countered by student reactions to the announcement.
Around a week ago, a poster reading "All ACPD Cars Are Now Unmarked. Do You Feel Safe Yet?" was hung in the foyer of Valentine Dining Hall. The poster garnered the concern of students in the campus GroupMe AmherstBussin and the Association of Amherst Students (AAS).
In interviews with The Student, many students expressed that it is a right to be able to distinguish between a civilian and a police car.
"I and many people I have talked to would prefer that the cars are marked — this would make us feel safer as we would be able to clearly tell when a police car is near us," said Nii-Ayi Aryeetey '23. "Unmarked cars are not a positive adjustment to how safety services are delivered to the college community. If the function of ACPD is solely to keep students safe, there is no need for unmarked cars, as the function of unmarked cars is so that the cars are able to blend in more easily with civilian cars."
"It makes me feel uncomfortable," echoed Edmund Kennedy '23E. "I don't like the idea of people hiding in plain sight in order to provide 'protection.' I don't think I am alone in thinking this makes a ton of students feel uncomfortable."
Ella Rose '23 similarly reflected that "now students are going to be on edge all the time, because they don't know where people with guns could be."
Talia Ward '23 noted that she and other students had expressed concern with the two originally unmarked vehicles during the Fall 2020 semester. "Last year at a town hall, something we brought up around policing was the unnecessary presence of unmarked police vehicles," she said. "We were asking the question, 'What is the purpose of an unmarked car?'"
Student A, who preferred to remain anonymous for their personal safety, was disturbed about the lack of communication around the decision. "To me, going from a marked car to an unmarked car without an email, without anything, that feels like a violation of trust," they said. "I remember the sinister feeling in my stomach [when I first saw an unmarked car], and I remember calling my father, I was like, 'Can you believe that we have an unmarked cop car at my tiny college?'"
Some ACPD officers were also critical of the decision to unmark the vehicles.
"The officers, we didn't really like that decision," said Senior Detective Cara Sullivan, adding: "We didn't really have much say."
Sullivan reported being concerned about students not knowing that they are being approached by a police officer. "As the officers, we're never trying to hide," she said. "If you are approaching somebody, they [should] know that it's an officer coming." She also worried that students would think that ACPD officers were "spying on them."
In addition, Sullivan says, the unmarking "is taking away that visibility, because it is an emergency vehicle." She cited past instances where she and other officers had been flagged down in their marked cruisers by people looking for help on and around campus.
Once, she said, "I was just slightly off campus at one of our buildings down by Pratt Field, and someone was riding towards me on a bike, and they came into the driveway, and they were like, 'Hey, I think some girl's getting assaulted in that vehicle, up by the football field.' And so then I pulled out of there and was able to go and deal with that situation. But if I was just sitting there in a white car, they probably just would have rode … I don't think they would have seen me."
Kennedy similarly questioned the utility of unmarked vehicles. "I question the function of ACPD," he said. "If the goal is to use them as a means of keeping the campus safe, how can they do so without being able to be clearly identified?"
The shift to unmarked vehicles comes in the larger context of broader tensions surrounding the purpose and place of policing at Amherst. While Carter describes the decision as a "visibility" issue, years of student activism — including calls to disarm ACPD in the Reclaim Amherst campaign, and abolish ACPD in last spring's Black Minds Matter walk out — point to the demand to fundamentally alter the presence and role of police on campus, and not just their level of visibility.
Student A stated that tangible changes in line with these demands would be more effective than changes like unmarking vehicles. "I have a history of having a gun pointed at me by cops," they said. "As a student, especially from a non-traditional background compared to a lot of my peers, I don't feel comfortable seeing a constant armed presence on campus."
On the other hand, Sullivan expressed that she sees her role as best supported by a close relationship with students. She described historic dynamics between students and police in which continued casual contact and involvement in both the smaller and bigger issues on campus contributed to building trust and relationships with students. "I feel like it's scary now for them if they do see an officer," Sullivan said, "because they're not seeing us. It's understandable."
Aryeetey testified that he does not see conversations or relationship building as an end-goal. "My problem with ACPD is not that I see their cars and officers as 'a barrier to conversation and relationship-building.' It is that all the responsibilities that ACPD has on campus could be assumed by trained professionals who are not police officers," he said.
His statement echoes statements from the AAS' call to disarm ACPD last April. "Like s'mores nights or 'Coffee with Cops' programming, these public relations stunts misidentify the problem of policing as a lack of trust," it reads. "A lack of trust wrongly assumes that the concern lies in relationships. But relationships with police do not prevent them from killing Black people."
Rose also reflected on visibility shifts like this. "One thing that I have noticed is an increase in 'copaganda,"' they said, noting the department's recent adoption of a comfort dog. "They're trying to make themselves look better without actually addressing student concerns."
Student A believes that a lack of trust is inevitable no matter what changes ACPD makes to its visibility. "The point is that nobody is going to like them because nobody trusts them. We tell them, 'I don't want to wake up in the morning and see your gun in your holster while you're washing your hands in my bathroom,'" they said. "How does that make me feel safe? I'm waking up to go use the restroom and there's a gun in my face. In no way is that going to make me feel safe."
The subject of unmarked vehicles also led students to ask what ACPD's response to student concerns should ideally be. "The reaction to 'We feel uncomfortable with your presence on campus' should be 'Okay, how can we make you more comfortable with our presence and reduce it when possible?'" said Cameron Mueller-Harder '22.
Sullivan also spoke on her desire to communicate more with students, reporting that individual officers themselves often feel excluded from conversations often had with the chief about "what exactly the students want, and what would make them feel safer on campus."
"We would love to talk with the students, because obviously, we don't want you guys to be uncomfortable around us," she said, "It would be really great to actually just have a conversation with them and say, 'What is it that makes you scared?' Or like, 'What can we do?'"
"It is kind of difficult because we don't know … the issues," Sullivan said. She referenced conversations that had been facilitated on campus between police officers and students after incidents of police brutality in the 2010s, which she views as being "a really great, raw conversation." She relayed that she had attempted to reach out to Community Development Coordinators and others to engage with students following debates about ACPD's role on campus, but had not ever heard back.
Student A reflected on the overall disconnect evident in this dissonance. "The unmarked cars tie back to everything else. It's the way that ACPD is so out of touch with the Amherst community. You have people from different backgrounds. You have people here who are super pro-police, you have people who are abolitionists. And then there's a spectrum in between," they said. "But ACPD — and I know they did the talks, and I want to give them that credit, because I'm assuming they opened themselves up to criticism — they are still so out of touch."
For Kennedy, the overarching and fundamental issue in his mind is "simple: the interests are different. ACPD wants to continue to validate its position and necessity on campus, but the students don't necessarily want or need that."