Features
Black Student Hairstylists Build Business, Community on Campus
The Student speaks with the owners of two student-run Black hairstyling businesses on campus, KC Cutz and Mane Attraction. These students not only provide a scarce service, but help build community and create space for the practice of Black hair care on campus.
The many different hairstyles that students wear on campus reflect the diversity of ways that students, faculty, and staff express themselves. Some community members may go into town for their hair care needs, stopping by Red Door Salon or Sandy's Barbershop, while others have more low-maintenance styles they do themselves. For many Black students on campus, however, access to hair care and the self-expression it enables isn't as easy as just walking into town or taking a quick 10-minute drive, because natural Black hair care is limited in the Amherst area. Fortunately, there is no shortage of talented Black hairstylists on campus, who can style everything from temps, to trims, to knotless braids, to passion twists. These students not only share their hairstyling talents; they also help build community and create space for the practice of Black hair care. The importance of this practice has been highlighted by Professor Frank Roberts and ​​Beluolisah Oranye '23's "Bo's Barbershop and Books" series in recent months.
In this article, The Student spoke with the owners of two Black hair care businesses on campus, KC Cutz and Mane Attraction. Kelechi Eziri '23, Ashanti Adams '24, and Belane Abdurahman '25 — three of many Black hairstylists on campus — spoke about their experiences building business and community through haircutting and styling.

KC Cutz: Kelechi Eziri '23
Not knowing whether or not he would be able to pay for a haircut and maintenance every two weeks, Kelechi "KC" Eziri '23 started cutting hair while he was in high school. Eziri learned to cut hair by watching Youtube videos and recreating the hairstyles on himself. Over time, he became better and better, and soon he was cutting his own as well as his friends' hair.
By the time Eziri came to Amherst in the fall of 2019, he had become much more confident and started his business, KC Cutz. Eziri does styles from just trims off the top of the head, to fades, to temps. "I realized I'm decent enough to be cutting [hair] [for] other people, so I kind of just started doing it as a side hobby," he recounted. At the time, Eziri did not even know the extent of the college's need for barbers. "It kind of turned into a full time job," he said.
Part of the reason Eziri felt the weight of the "full time job" cutting hair on campus was the lack of barbershops in town that cater to people of color. Matt's Barbershop on Boltwood Walk is one of the few barbers that is known to cater to more than just white clients. "A lot of kids on campus just don't have anywhere to get their hair cut," said Eziri.
In his first year, Eziri was getting around ten requests for haircuts per week, and charged $10 per cut. As his first year progressed, cutting hair became both a craft and a stressor as he experienced fluctuations in demands over the weeks. "Sometimes I'll schedule and then have to reschedule because I just have so much going on," he reflected. "You don't want to say [no] [to] anybody."
Fortunately, Eziri was not the only barber on campus. At that time, Eziri and Oranye happened to both live in Charles Pratt Dormitory, and the two cut hair and did natural hairstyles around campus. As of now, there are numerous barbers on campus; Eziri mentioned CJ Mitchell '25 as being another example.
A sentiment that the Black barbers and hairstylists interviewed seem to share is that taking care of natural hair is a part of community bonding. For Eziri, natural hair care's connection to community building began when he was a child, sitting in the barber chair or waiting to have his hair done. "[I remember] the conversations that people were having, and watching, like, a pirated movie on TV," he laughed. "[The barber shop] has always been a nice space for community."
When Eziri arrived on campus, he continued to feel connected to others through natural hair, so much so that he has made numerous friends and close acquaintances through his business. "A lot of times people love to open up to you about things you wouldn't really think you'd be talking to them," he said.
Unfortunately, accompanying the community bonding aspect of natural Black hair care is stigmatization. Eziri mentioned how there is a pressure to be "presentable," put on both by general society and even within the Black community. The ambiguity of what "presentable" means can create harmful standards, he said. "I think a lot of people feel [pressure]," he said. Before he came to Amherst, Eziri reflected that being "presentable" meant getting his hair cut every two weeks. "It wasn't really until I got here … [that] I said I don't want to get a cut every two weeks," he reflected.
In other words, Eziri no longer felt the pressure to meet any standard of "presentable." He sees hair as a form of expression and finding your identity. For him, part of finding his identity was experimenting with his hair and growing his hair out while on campus instead of cutting his hair every two weeks for the sake of others. "I think you get a lot of your identity suppressed by the hairstyles that people impose on you," he said.
To prevent the feeling of suppression when it comes to natural hair, a lot of Black students have stepped up to ensure that natural hair care is present on campus. Eziri mentioned products from brands like Cantu, Shea Moisture, and Aussi as examples of what the former Schwemm's marketplace used to stock for students. Eziri has not seen those products sold since last year.
Offering these products locally when they otherwise would need to be purchased online or off-campus relieves some of the pressure from students, but Eziri believes the college could do more for the students. "The college [could] utilize its student workers and set up more institutions for [barbers like myself] to be able to cut on a regular basis and get paid by the school rather than by the students," he said.
Eziri reflected on an event in Charles Drew House just last year, where he, Bo Oryane '23, and other barbers worked for four hours cutting hair, and were paid directly by the school. He recalled the event as proof that the school has the capability to support natural Black hair care on campus. "We were all just giving haircuts for [about] four hours in Drew. We were paid a good amount of money by the school," he said. "They provided all the supplies that we needed. It was a nice event for the community."
As part of its community building power, Eziri also reflected that "Your ability to just be free with [natural hair] is definitely a way for you [to] become more in tune with yourself." He sees cutting hair, and the use of natural hairstyles, as a way to become closer with oneself and with others.

Mane Attraction: Ashanti Adams '24, Belane Abdurahman '25, and Anu Daramola '24
Ashanti Adams, a co-owner of the business Mane Attraction, is one of the many Black woman hairstylists on campus. Like Eziri, Adams learned to braid through YouTube videos and by practicing styling before she came to Amherst. She first started braiding at thirteen years old, in middle school. "My aunt used to do my hair, but I got to a point where she [said] 'you can do it yourself,'" Adams said. She began practicing french braids, and later in high school, she began doing box braids. Adams comes from a family of braiders, as both her mother and older sister braid hair, and helped her practice.
When Adams arrived at Amherst in 2020, she was one of the few students who could do braided hairstyles like french curls or box braids. "It was kind of my own market," she said. Adams quickly found other braiders on campus, specifically Anu Daramola, who is especially good at retwisting hair. The two began working together in a braiding business.
Belane Abdurahman, the third co-owner of Mane Attraction, started braiding in seventh grade when she wanted to experiment with different hairstyles that her mother didn't know how to do for her. Abdurahman would attempt new hairstyles on herself on her sister, who was "underwhelmed by [her] mother's styles," and was willing to let Abdurahman practice on her. As she began trying new styles, they "just [made] sense" — she had a natural knack for learning to braid.
From then on, Abdurahman continued to practice hairstyling. During the spring of her junior year of high school, in 2020, the COVID-19 lockdown began. During a time when everyone underwent some kind of change to their routine lifestyles, Abdurahman found herself being more adventurous and inspired to try different hairstyles. "I was staying home," she reflected. "I could do anything and [if] [it] turn[ed] out bad, it [didn't] matter."
In 2021, Abdurahman carried her braiding skills from her home of Atlanta, Georgia to Amherst, Massachusetts. During her first year, she did her friends' hair for fun. By the beginning of the 2022-2023 academic year, Abdurahman had managed to start doing hair "professionally," and joined braiders Daramola and Adams became a co-owner of Mane Attraction.
In the business, all three braiders do box braids and cornrows, Adams and Abdurahman do knotless braids and designed cornrows, and Daramola does styles that range from finger coils to passion twists to natural twists. The three braiders together have lots of coverage in their skills, something that has garnered further attention for the business.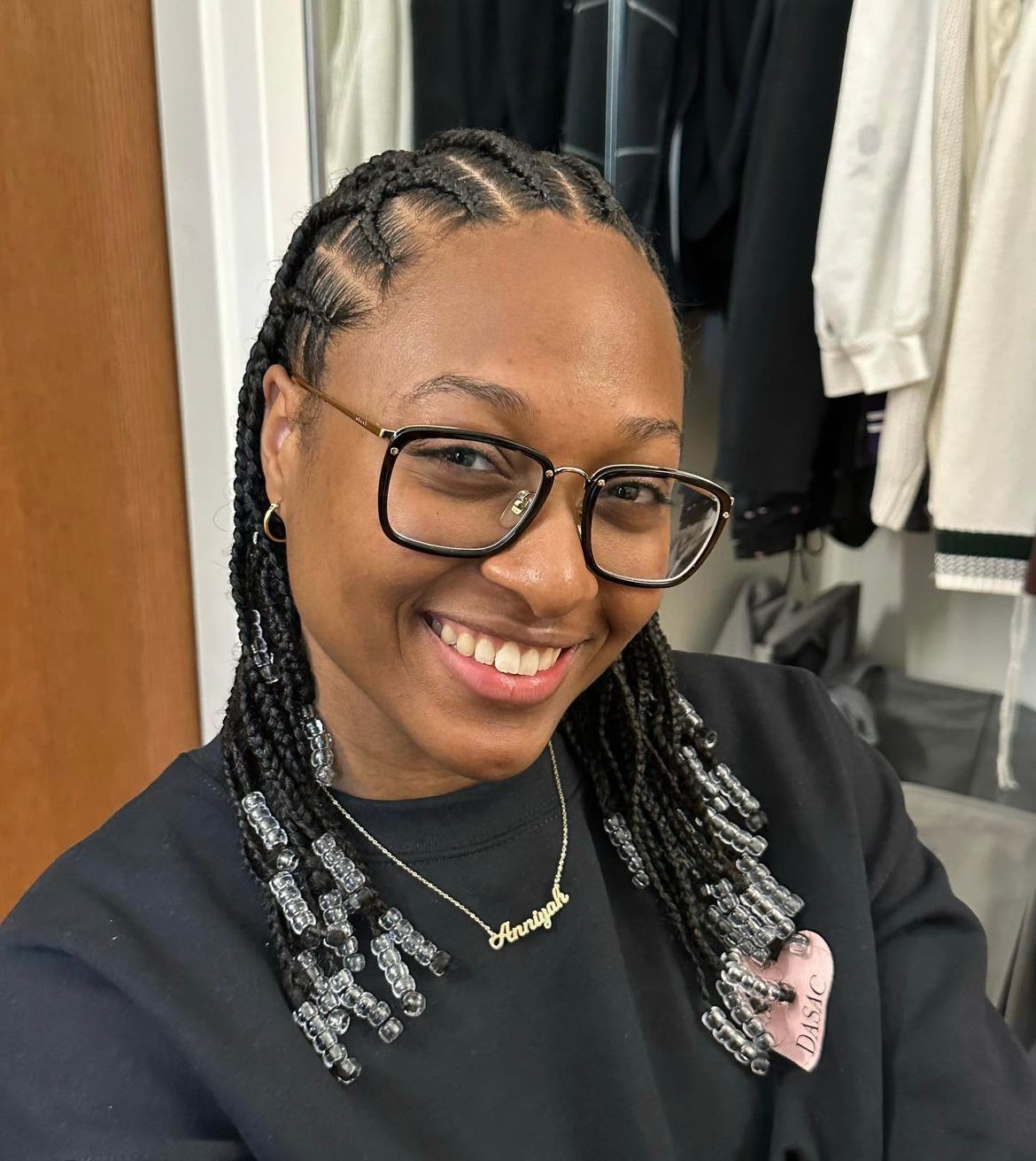 When asked about the inspiration for the business name, Abdurahman did not take credit. "My friends came up with it," she said, "They were thinking about other names for hair, and someone [said] Mane Attraction."
Mane Attraction's Instagram account, @ac.maneattraction, showcases the work of many different hairstyles for interested clients. What may not be as easily showcased is the amount of time the three stylists devote to these styles. "[When] I do box braids, twists, [or] those kinds of styles, that can be five hours per person. If I do one [client] a week that's [about] like five, six hours," Adams said.
Adams finds herself doing hair mainly on Fridays and over the weekend, but also must balance the business with her other two campus jobs. "I work at the CARC four days a week… and then I'm a theater tech for like three hours a week," she said. Adams especially felt pressured in the week leading up to spring break, in which many Amherst students were preparing themselves with protective styles for vacation.
Because Adams must find a balance between working, being a braider, and being a student, she wishes there were more options for natural hair care in the area. "We don't have the capacity to wash people's hair [or] do silk presses," she said. To get styles like those, Amherst students have to secure a ride through a car or Peter Pan Bus and drive to Springfield, which takes anywhere from thirty to forty minutes one way.
Due to the scarcity of local braiders, Adams reflected that at times she feels obligated to agree to schedule time for hair appointments for all her clients. Similarly to Eziri, Adams said that "sometimes it's hard to say no to people or push something back. Black people find it important to have their hairstyles and [without them, it] can ruin, or put a damper on people's confidence." Adams' statements also speak to what Eziri mentioned about the pressure to be "presentable" and how Black hair can reflect people's personalities. The stigma of coilier hair textures and the esteem for looser ones contributes to people's perception of what is "presentable." "Looser curls are preferred [culturally]," Adams said, "Even during the natural hair movement, [there were] ringlet curls, [but] not really coily [ones]."
Adams believes that the stigmatization of Black hair textures is a larger, general issue, but that fortunately, on campus, she hasn't felt this stigma. "[Students] can wear braids, silk presses, relaxed hair, or have an afro, etc. You see so many hairstyles here," she observed.
With this diversity of hairstyles and hair needs on campus, Adams encourages the college to aid in natural hair care on campus — and, of course, Mane Attraction — by selling more natural hair care products. Similarly to Eziri, Adams reflected on how the college's stores used to carry more Black hair products, but has since carried little to no products as of late. As a suggestion, Adams says "[The college] could sell braiding hair. A decision to do so could alleviate some of the costs for the stylists at Mane Attraction, who currently obtain braiding hair from Amazon. Adams is confident that providing more natural hair care in general could also reduce hairstylists' reliance on obtaining products from Amazon and other online shopping companies, which would decrease the school's package footprint.
Abdurahman also reflected on the time she spends braiding, which has led her to see her skills as both a "curse and a blessing." She finds herself with a "marketable skill" that she feels obligated to use. Similarly to Eziri and Adams, she doesn't want to turn students away from getting their hair done. Because of this, Abdurahman finds herself sacrificing some of her personal time and her work time for others, and it adds up. "Most of the time, I do [french curls] with Ashanti, [which] will take four to five hours," she said, "For twists, maybe three hours. [For] retwists, [it] depends on how many locs they have, [but] normally [around] two and a half to four [hours]."
At the same time, though, Abdurahman is proud of her beautiful work and designs. She said that at times, she's "not living or operating as healthfully as I should, because she was doing someone's hair," but that finishing hair is "nice to have a final product." Part of this "nice" feeling that Abdurahman has is because she's able to give Black students options for natural hair care when there are a limited range of options in the areas. Abdurahman and other natural hair stylists help to alleviate this burden and help foster strong connections within the community.
Like Eziri and Adams, Abdurahman feels that within the hours of doing hairstyles for all types of students, she learns more than just about people themselves. "I get to know so much, not just about them, but the environment that they exist in on campus," Abdurahman said.