News
Class of 2026 Arrives on Campus
The class of 2026, Amherst's 204th class, arrived on campus last week. Despite a false active shooter alert and some continued Covid restrictions, this year's orientation was the most normal since the fall of 2019.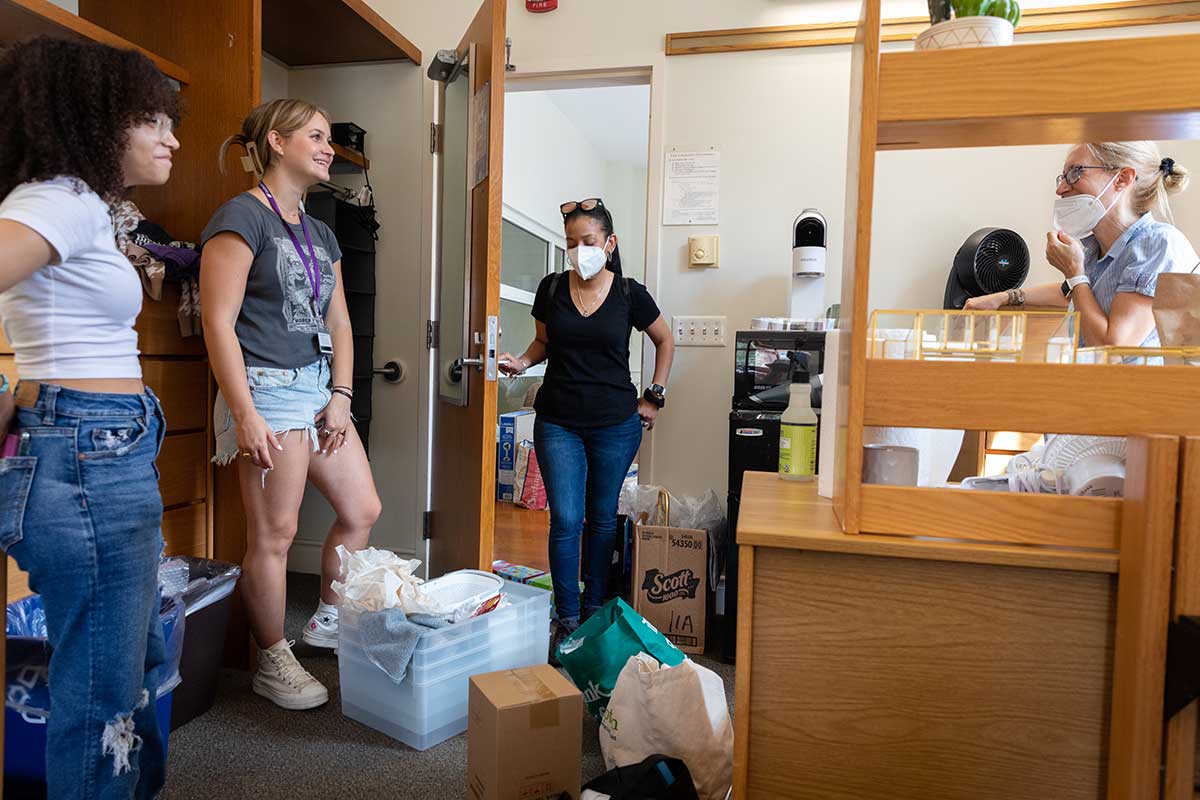 The class of 2026 arrived on campus on Friday, Aug. 26, beginning a packed week of orientation activities.

The first-year cohort, the 204th class to grace the pews of Johnson Chapel, is one of Amherst's most diverse ever. After two long, Covid-afflicted years, the 467 first-years arrived to a campus that has just about returned to normal.

The first-years' time on campus began with a rude awakening when the college's emergency alert system malfunctioned during move-in, warning students of an active shooter and sending panicked students, parents, and orientation leaders into hiding.

The false alert and bad weather threw the orientation schedule into flux, but students were still able to experience a fairly normal orientation. They broke out into squads, learned about the services the campus had to offer, and participated in Learn, Explore, Activate, and Participate (LEAP) programs. For the second year, "centering and decompression activities" were offered in the mornings and afternoons.

Overall, Liz Agosto, dean of students and chief student affairs officer, said that "Orientation this year was focused on providing opportunities for students to build relationships with one another and to learn about campus and campus resources."

New for this year was an activity known as "Mammoth Circle," facilitated by the Center for Restorative Practices, in which small groups of students came together in open conversation to tackle community and campus life. For the first time, the college held a two-day pre-orientation program for transfer and veteran students, via the Class and Access Resource Center.

Speeches from the college's new president, Michael Elliott, bookended the five-day affair, beginning with a welcome address on Aug. 26 and ending with convocation in Johnson Chapel the night of Aug. 31.

In his opening remarks to students, Elliott, who is just over one month into his tenure, declared the class of 2026 "my class" — he and they entered the college, and will navigate the next four years, together.

Drawing on his own experience as a member of the Amherst class of 1992, Elliott told students that "you will wonder at times whether you belong here." He assured them that they all did but advised them "to be patient with yourself — it will take time."

During the five days of orientation, students were led through a range of programming centered around the resources available at Amherst, sexual respect, and mental health and wellbeing. According to multiple members of the class of 2026, though, a significant of first-year students skipped significant amounts of the programming, especially after the rattling experience of the false shooter alert.

Students who did attend events often described themselves as leaving with something to be desired.

"A lot of the lectures felt super repetitive," said Erin Williams '26, a sentiment echoed by many. "They were just saying the same thing over and over again."

The information seemed to be especially repetitive for international students, who had already gone through international student orientation, and first-generation and low-income (FLI) students, who had the opportunity to learn about Amherst during the Summer Bridge program.

Jorge Rodriguez Jr. '26 said that the wellness portion of orientation was "longer than it needed to be." He wished he had more time to get to know others and explore campus — his squad didn't have a chance to see locations such as the science center and the library.

Bryan Jimenez Flores '26 experienced some parts of orientation as a flood of information. '"A lot of resources were named, but not how to access them," he said.

For her part, Agosto separately made clear in an email to The Student that the administration "wanted to emphasize with new students that transitioning to college is a process and that they are not meant to know everything about Amherst over a 5-6 day period."  

Outside of the official events, though, students seemed to have enjoyed their time. Flores said that, following the terror of the false shooting alarm, students were more outgoing. "That puts a lot of things into perspective," he said. "Someone told me that they were less nervous to meet people after all that happened."

Other first-years reported the opposite effect though, saying that the terror of the false alert cast a damper on the week and discouraged them from fully engaging in activities.

Regardless of their comfort levels, first-years were operating under less stringent Covid protocols than the class of 2025 and certainly the class of 2024. Unlike last fall, first-years were officially allowed to congregate in dorm rooms and enter dorm buildings that were not their own. Parents were allowed to see their children's rooms. First-years were able to take indoor meals at Val.

Barring further setbacks, the class of 2026 is on track for four years almost entirely unblemished by the stringent protocols that have haunted the campus for more than two years.  

At the end of the five days, and following the annual DeMott Lecture, delivered by Amherst psychology professor Catherine A. Sanderson, Elliott formally welcomed "his class" to college, delivering a Convocation at Johnson Chapel on Aug. 31.

Beneath a darkening sky, luminarias (one for each member of the class of 2026) lit the paths of the first-year quad as students filed through the tiny door at the base of the massive chapel.

In an address drawing on both W.E.B. DuBois and Alexis De Toqueville, Elliott reminded the first-year class that they were in it together, that he, too, was "nervous."

He cited the college's recent amicus brief before the Supreme Court. Striking a somber tone, he reminded students of mounting attacks on pluralistic democracy in the United States and abroad, saying that it was Amherst's job to produce the leaders who would meet those challenges. But he moved on to finish on an uplifting note, reminding students that beyond the grades, the games, and the friend groups, something more was at stake.

"Sentiments and ideas renew themselves. The heart is enlarged and the human mind is developed only by the reciprocal action of people upon one another," he said, quoting de Tocqueville. "This is why we bring you here together."