commencement
Gabriel Echarte: Grounding Achievement in Joyful Community
After his pandemic gap year as an EMT, Gabriel Echarte desired a more grounded relationship with the campus. Finding a home at Humphries House, and now on his way to Truman and Fulbright scholarships, Echarte has worked to reconcile his excitement for impactful work with a need to be in community.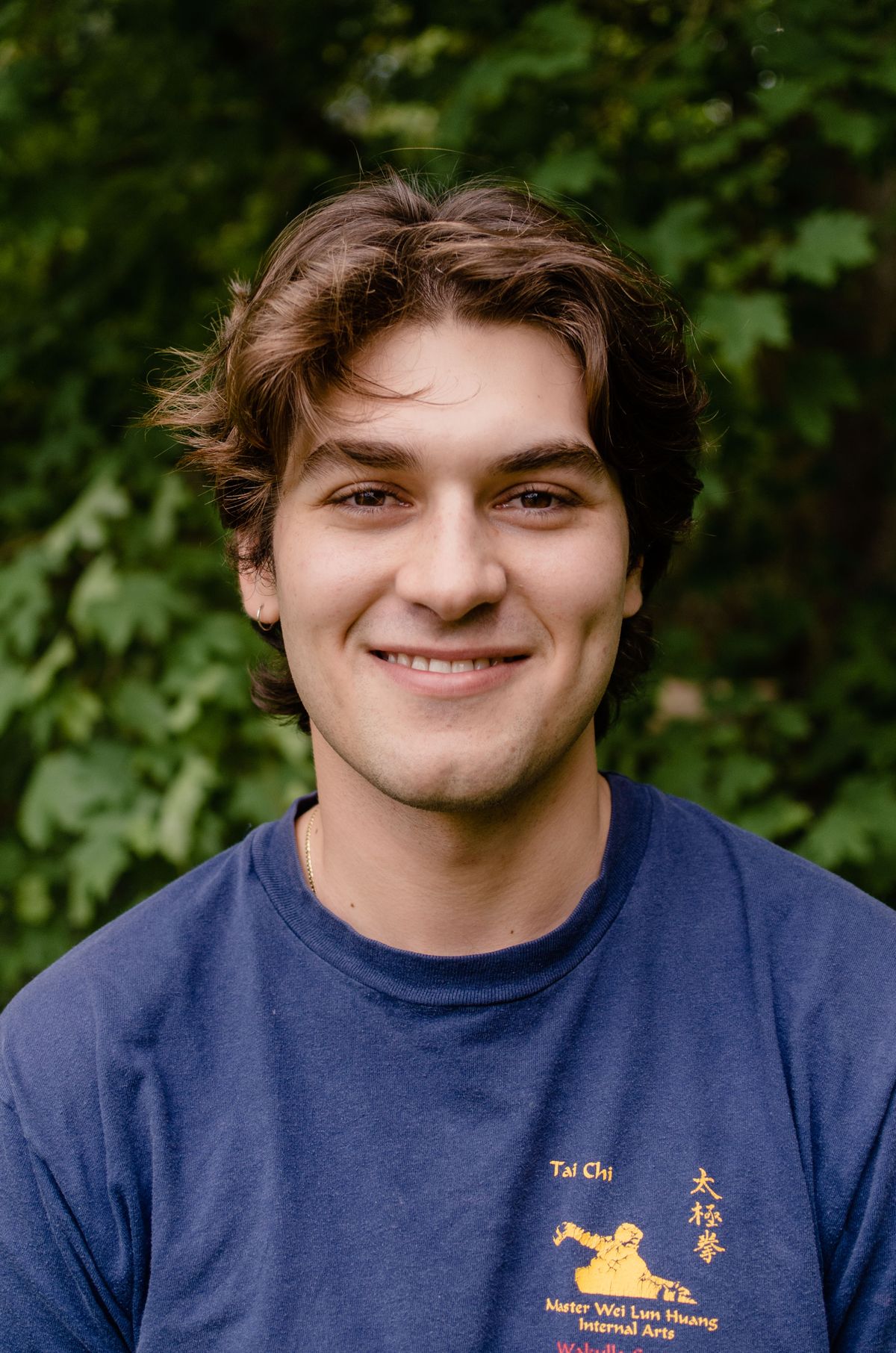 When I interviewed Gabriel Echarte '23 at Amherst Coffee the other day, I was struck for the thousandth time by his inexhaustible hospitality. At my small expression of regret over my coffee order (a hot drink on a hot day is a bold decision) Gabriel didn't offer any condolences. Instead, he filled a plastic cup with enough ice and oat milk for me to, if I so chose, pour my hot coffee in to create a new cold drink. It was as if the mere potential of my feeling dissatisfied brought him a kind of physical discomfort, like he couldn't be truly ready to sit down to reflect on his college career without the setting being just right.
Gabriel's desire for a comfortable place to be, in any other profile, would be a perfect entry point to his decisions and activities at Amherst, providing a means for the reader to understand his character, as someone whose academic achievements are ultimately secondary to his pursuit of personal happiness. But, as soon as one zooms out even a little, it becomes clear that there is no single throughline to who he is. For Gabriel, college has not merely been one thing, nor has his character ever been reducible to a single phrase. Instead, Gabriel's time at Amherst has been defined perhaps primarily by Covid's violent rifting of time into a distinct before and after — wherein Gabriel approached Amherst in one way, and then in another.
The First Way
When Gabriel graduated from a magnet high school in Miami, in 2018, he was excited to start a new kind of academic journey at Amherst. He applied after visiting the campus with a close friend who was then a student at the college, falling in love with the idea of close relationships with professors, small class sizes, and a tight community alongside Amherst's strong academic focus.
His first two years at Amherst matched up perfectly with that ideal. He found community in the crew team and fellowship in other students, whose focus and dedication to academics represented a nice break from high school life. Describing his experience in the community, he said, "I think there were very few other places where I could have grown [as much as I did] because of how small and supportive the community is." At any other school, he says, a lot of how he's changed — in terms of his ability to make friends, his comfort in groups, his confidence to seek out and pursue opportunity — simply wouldn't have happened.
Gabriel's first two years are also defined primarily in terms of the actual things he did, the type of things you can list on a resume — though it's worth noting that our interview was characterized by him practically refusing to recount these variously impressive achievements. I didn't find out about his summer internship on Capitol Hill, for example, until an unrelated conversation two days after our interview. Throughout his freshman and sophomore years, he supported student efforts that spurred the administration to institute the Climate Action Plan, became a senator in the Association of Amherst Students (AAS), and took an internship in the summer of 2019 with the U.S. Senate Committee on Foreign Relations. He found himself developing an interest in environmental policy-making, and to this day closely observes the political scene.
About those first two years, he said that he "wanted to get involved with all of the cool, smart kids … everything felt so important, and I liked it — it felt important." Gabriel's first stint at college was defined by this drive to get involved in exciting things on campus, as well a second drive, borne out of four years of grade-chasing amid his high-pressure high school, to perform. These sometimes-conflicting impulses have followed him all the way to the present, but not without an interjection in the spring of his sophomore year.
The Rifting Event
That March, the floor fell out from underneath the college. Gabriel tumbled with his terrified cohort into the fraught early days of the Covid pandemic, when nothing was well understood and normal ways of life collapsed into complete isolation. Expressing how the first months of remote school felt, he explained — vividly — that it was "atrocious. Horrible, horrid, horrible, bad, terrible, very terrible."
While it was certain that the format was unbearable for Gabriel, who thrives on in-person interaction and a classroom environment, the worst part of those first few months was that school just "felt so unimportant." Looking back on that time, he remembers how "every news article was about overwhelmed hospitals, doctors, [or] new infections." School, for obvious reasons, began to feel secondary to the world outside.
I've known Gabriel only since the spring of his junior year, but throughout that time he has always seemed to exist outside of Amherst's bubble. He feels that world political events are just as important as what he does at college, and that both should be thought about with the same seriousness. As such, he suddenly felt very unhelpful being a college student in the face of the unprecedented and existential fear presented by Covid's outbreak.
This was an indescribable shock for the student who had previously been motivated by how real and empowering it felt to get involved on campus. "I remember it really hit me at a few points in the spring," he recalled. "One was seeing these pictures of National Guard deployments at the beginning of [the outbreak]. And then just seeing all the pictures of the [reaction to] George Floyd and Breonna Taylor showed like, how much the country was going through it."
Since online school seemed to be guaranteed for the foreseeable future, Gabriel decided to take a year off. Instead of continuing on the path he had been on since he was a child, he would try to get more directly involved in the country, to do some kind of tangible and helpful work. He moved to a mouse-infested apartment ("I could hear them all night … I slept under the sheets because I was worried they were gonna crawl on my face") in Boston that summer, working at Whole Foods until he found a job doing Emergency Medical Technician (EMT) work with Cataldo Ambulance Service. He accompanied experienced crews on emergencies, transported people who needed ambulance services, and assisted more advanced EMTs with their work — all experiences Gabriel variously described as "amazing," "formative," and as something that "changed [his] life."
"The coolest thing," he explained, "was getting to do [vaccinations]. There was an emergency authorization for EMTs to give vaccinations during the rollout in the spring … I would go [to the Boston Convention Center] and half of it was, like, the Marine Corps giving the shots, and then it was kind of like the tweens, like me … I felt really proud of that."
With the vaccine's spread and the associated decrease in existential stress, Gabriel felt like he could go back to school the next year. After spending the summer of 2021 working at a bar in New York City (and thereby experiencing the world coming a little bit back to life) Gabriel found himself back at Amherst to tackle the second half of his violently bifurcated college experience.
The Second Way
Reflecting on his year with the ambulance service before our interview, Gabriel said that he realized just how much that experience informed his post-pandemic values. He explained, "I became hyper-aware that [the people I helped], from the way they communicated, totally expected more time, and in some cases, expected more from their lives … Something about that proximity with death definitely changed my approach to what I cared about."
When he came back to Amherst, he said, he realized that even though he did genuinely care about what he was involved in, he wasn't sure he was satisfied with how he was spending his limited time. In other words, time itself had transformed from a vague backdrop into a tangible, finite thing with greater value than any other earthly resource.
Gabriel became much more "deliberate in balancing what makes [him] really happy with everything else." Since coming back, he continued, he has continually made life "much more about friends, personal connections, relationships, things like that." This change has also made the strange unreality of campus life more apparent. "Sometimes," Gabriel said, it feels like campus participation is based on "trying to, like, make a mark, stand out," to declare that "'I'm a leader." At the same time, he continued, it's true that "a lot of it really impacts lives [at the college], and if that's what you get excited about, then you should totally be involved. It's just that, after a while, it wasn't making me happy."
That is not to say Gabriel has magically separated himself from extracurriculars, much less the pressure to perform that pervades college life. Instead, his return to campus has been defined by an effort toward the goal of disentangling self-worth from collegiate performance.
Junior year was therefore a slow and sometimes hard transition away from school being primarily a source of high grades and university-sanctioned achievements toward a place that fostered real community and happiness. The closeness of Gabriel's staff relationships was essential to navigating college life, and to the two prestigious fellowships he won in his last two years: the Harry S. Truman Scholarship and a Fulbright Teaching fellowship. "I only applied to Truman," he said, "because [Director of Fellowships] Christine Overstreet found me in Val[entine Dining Hall] and told me to apply to Truman. That completely changed my life."
Gabriel's interest in politics and public service must have been obvious to Overstreet through his actions alone — he was an AAS senator, he was active in work to pass the Climate Action Plan, he took a year off to be an EMT during Covid — but anyone could have realized the Truman is right for him through a single conversation. It's impossible to watch an episode of "Succession" (for example) with Gabriel without reckoning with the nature of America's political existence and the fate of electoral politics. I often come down to grab water or a snack from the kitchen of the Zü (or Humphries House), the theme house and food co-op where Gabriel and I both live, only to engage in 20 minutes of conversation about whatever political commentary he has been down there reading.
It is clear to Gabriel that he will spend time working in government, though at the moment he's not quite sure how. For his Truman, he'll be placed into a government internship this summer, and participate in community activities designed to bring the cohort from across the country closer together. The scholarship also provides money to go towards a graduate degree, but considering graduate school is one of the things Gabriel is "putting away on the back burner" while he tries out jobs and spends time living outside of school.
Gabriel emphasized that he approached his application with the guidance of the fellowships office in mind — that the application is first and foremost a way to get to know yourself better, to practice writing about yourself in a concise and rigorous way. The difficulty of the application was a huge obstacle while he was applying, and thinking about one's entire life in the context of an application is always soul-sucking, but doing it with the fellowships office "helped [him] get more confident — I do have some stuff [to be proud of]!"
Where the fellowships office sought him out to apply for the Truman, Gabriel applied for a Fulbright teaching fellowship much more of his own accord. He called it an "amazing opportunity to teach in a foreign country, meet other people and live in a new culture," something he had always heard of and thought was "the coolest thing … I'd always planned to apply to a Fulbright. And now, August 27, I'll be in Mexico." He hasn't been assigned to a location in the country yet, but when he is he will provide teacher's assistant services to students (possibly of college age, like the Foreign Language Teaching Assistants at Amherst, but possibly younger students as well).
Without coming to Amherst and finding supportive relationships with staff and faculty, he emphasized again, he feels like he would never have done half of what he now has done. It is thanks to Amherst, he says, that he is going to spend next year in Mexico, and that he'll spend this summer learning with another talented group of scholars.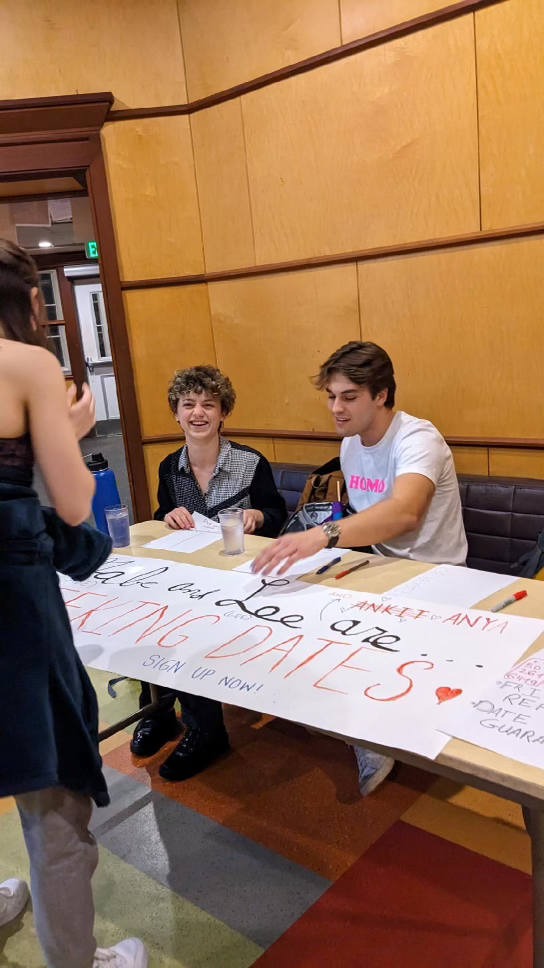 "A Meeting of Souls"
Looking back on Amherst, it is certain that not all was perfect. Gabriel's college experience was shattered by Covid, broken into two halves that are seemingly irreconcilable in terms of the worldviews they entailed. But without that discontinuity, it is certain that he wouldn't be the person he is today — perhaps because of the difficulty he's faced. "I definitely feel that a lot of my relationships here were kind of cut short, or not able to grow as deep as I would have liked, largely because of Covid," Gabriel said. After all, he came into college with the class of 2022, so many of his longest relationships were broken off by last year's graduation.
College has also been a stressful place — Gabriel said that there were times when receiving a paper deadline felt like a literal death sentence — and it often seemed that the campus had a "lacking sense of community." However, as he leaves, he says that he is "feeling good about [Amherst] and where I'm leaving this place at." The reason for that satisfaction is in no small part the Zü.
This past semester, Gabriel moved into the Zü in search of a more tightly-knit community and in the absence of his closest friends. The move has been a positive one, he says — "I was feeling kind of negative at Amherst [in my senior year], and the Zü has completely changed that … I loved living there this year. I met some really cool characters, I loved cooking vegan broth [with April Dottin-Carter '23] for four months, everyone coming together on Wednesday nights, Helen [Feibes '23] making scones at one in the morning and hanging out."
He and I have spent a long time talking about the Zü and how it functions as a theme house, and at this point I think both of us are certain that, for all its idiosyncrasies, the house has the most real living community we have experienced at Amherst. There have been multiple times, whether at a dinner we held outside on the porch a few weeks ago or while we were singing happy birthday to a member of the house over a cake baked that day, when Gabriel has turned to me to say that the house is beautiful, that this community is good, that he is happy.
Overall, I think that's the most clear takeaway from Gabriel's time at Amherst. The whole thing is too large, too multi-faceted, to sum up in a sentence, and no individual event can stand in for all the happy and sad he has experienced between enrolling here and graduating. But, at the end of it, it is certain that he is leaving happier than he came and excited for the future. That future, though it is sure to be filled with the same kind of humility and high achievement that Gabriel has exhibited throughout school, will be decided by his commitment to spending time in the service of making himself and those around him happy.
"That's been my experience from high school — a lot of my best friends I knew in high school, but we are just now starting to get really close," Gabriel said. Similarly, he's "hoping that [college] is just the start of our relationships, and that they really take off after we leave this place … This is a meeting of the souls in my rolodex, but it really picks up afterward."