News
Michael Elliott '92 Begins Tenure As 20th President of Amherst College
Michael Elliott '92, formerly a professor of English and dean of the College of Arts and Sciences at Emory University, began his tenure as Amherst College's 20th president on Aug. 1.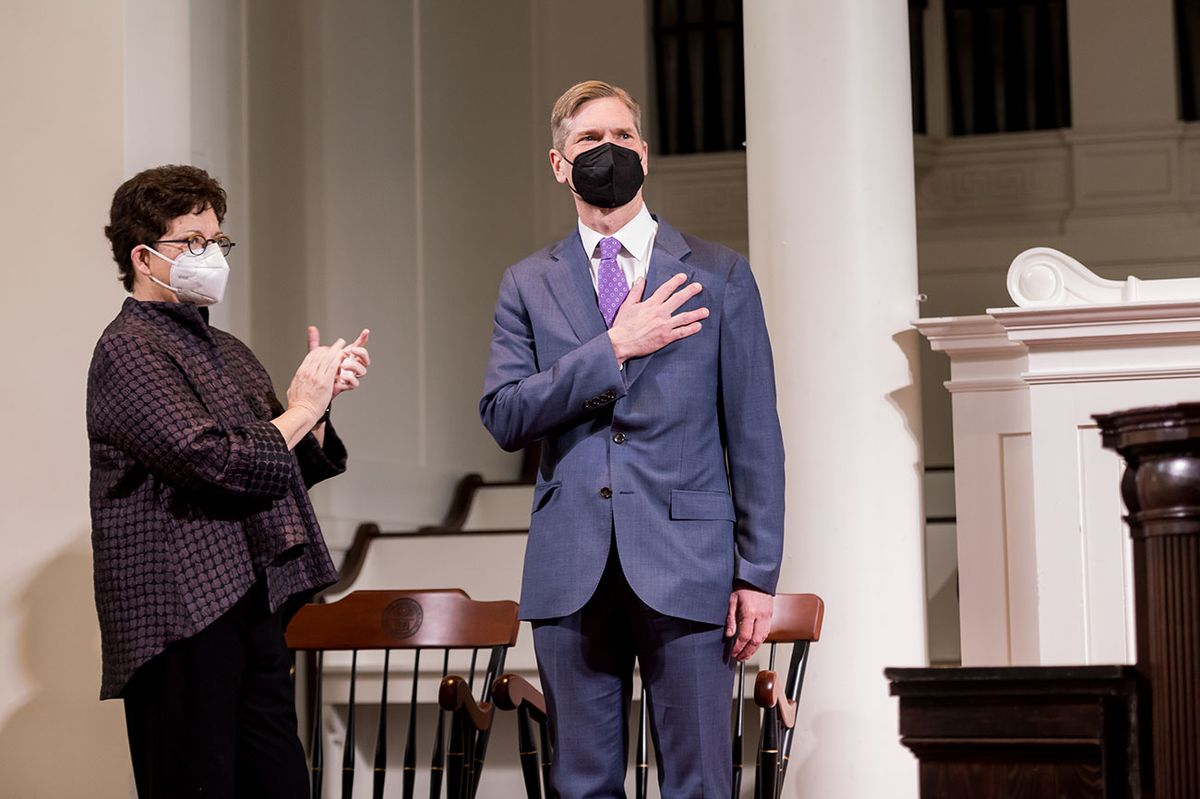 Michael Elliott '92, formerly a professor of English and dean of the College of Arts and Sciences at Emory University, began his tenure as Amherst College's 20th president on Aug. 1.
Elliott succeeds Biddy Martin, the college's president since 2011, who announced her intent to step down last September. His appointment was announced in a June 1 letter to the college community from Andrew Nussbaum '85, chairman of both the Board of Trustees and the Presidential Search Committee.
"Michael emerged as the committee's choice from an unusually deep, diverse and talented pool of candidates from the most prominent institutions," Nussbaum wrote, citing Elliott's strength as a scholar, his success as a college administrator, and his personal character as reasons for the appointment.
Following the position profile released in January, the search committee — which was composed of students, faculty, staff, and trustees — vetted a number of candidates with the assistance of leadership search firm Isaacson Miller, and conducted a series of in-person interviews before producing their recommendation. The committee unanimously recommended Elliott to the board, who in turn unanimously approved the recommendation.
Elliott earned his B.A., summa cum laude, from Amherst in 1992, double-majoring in English and Russian. Afterward, he attended Columbia University, where he graduated in 1998 with a Ph.D. in English literature.
He then joined as a faculty member of Emory College, where his scholarship focused on American culture and literature during the mid-19th and early 20th century, with an emphasis on the place of Native Americans in the U.S.
In 2017, Elliott was named dean of Emory College. His achievements in the role included developing the college's strategic plan, leading its most successful fundraising campaign, and increasing faculty diversity.
In his first month as president, Elliott has quickly become a fixture of college events and a familiar face around campus, delivering a number of public addresses. Community members who had had the chance to personally encounter him praised his affability.
"In the public appearances I've seen and from the first faculty meeting he comes across as a personable and reasonable guy," Professor of Physics William Loinaz said. "He seems to be modest, thoughtful, and possessed of a good sense of humor."
Luke Kline '26 shared a similar account. "He's a hilarious guy, and from his speeches it is obvious that he wants to harbor positive change at the Amherst Community," he said of Elliott. "He is extremely personable as well; he offered to sit at a table with my friends and me for lunch at Val just to get to know us."
But while Elliott has received a warm welcome from the community, many were surprised and disappointed about his appointment. In particular, given Martin's groundbreaking appointment as the first woman and openly gay person to serve as the college's president, and increased attention in recent years to the struggles that Black students and other students of color continue to face at the college, many expected the new president to be a member of an underrepresented group.
Zac Watson '24 immediately began texting his friends after the presidential announcement. "I just remember everyone kind of feeling the same way, like, 'Maybe he's good. Maybe he has what it takes, and he's really gonna make the school better,'" he said. "But also it was disappointing that we're not going to see a face who represents how diverse the campus is. It would have been really nice to see a Black woman be the president of Amherst College, considering the track record of white men for 200 years."
Christian Pattavina '24 described students as feeling a sense of regression. "I think what I've noticed is that there's a major sense of disappointment among students: The school took a major step back in terms of who the president is — namely a white man — after Biddy as a queer woman," he said.
Student disappointment was heightened by the fact that a Black president was one of the demands made in the Campaign to Reclaim Amherst, a 2020 movement launched in the wake of the killing of George Floyd by the Black Students Union and Black Amherst Speaks.
"Upon completion of her term as President of the College, President Martin's successor will be Black," the campaign wrote.
Following the announcement of Elliott's appointment, the Black Amherst Speaks Instagram account collected and posted anonymous responses from its followers sharing their thoughts on the new president.
"I wish the trustees cared more or better understood the importance of representation," one wrote.
"Don't feel like he will understand what the many non-white students need," wrote another.
In an interview with The Student, Nussbaum spoke to the diversity of the candidates considered by the committee, but declined to give specific details about the committee's decision-making process, citing confidentiality concerns.
"The job of the committee was to pick the best person all around," Nussbaum said, "and that certainly could have been a person of color — we had wonderful, diverse candidates — and at the end of the day, Michael stood out to the committee as the best choice."
Nussbaum also pointed to Elliott's "extraordinary and highly admirable" record of promoting diversity in his time as dean of Emory College.
The Student was unable to speak to any of the other members of the search committee, who also cited the committee's confidentiality policy.
Despite students' disappointment, many acknowledged that Elliott is not to blame for the decision, maintaining an open-minded and optimistic attitude toward his presidency.
"I ended up thinking it over and realizing that President Elliott was doing the best he could given the amount of scrutiny he was facing due to his identity," Zane Khiry '25 said. "That realization then allowed me to ease up on him quite a bit, and although I'm still not over the moon he was chosen for the position, I have a bit more faith he'll be able to carry out his duties well."
Pattavina echoed this sentiment. "What I've been trying to remember is that, as disheartening as it is that the school missed a major opportunity to demonstrate its proclaimed commitment to racial equity and representation, it's not President Elliott's fault," he said. "I am cautiously hopeful that time will allow him to prove his commitment to students."
Nearly all community members who spoke to The Student were in agreement that it is too early to assume what impact Elliott can or cannot have on the college.
"I find it to be in poor taste to react too strongly in any way at this point to his appointment, as it is unwelcoming and we have yet to see the course he chooses to take in his administration," Rowan Belt '24 said.
Olufemi Vaughan, the Alfred Sargent Lee '41 and Mary Farley Ames Lee professor of Black studies, shared a similar outlook: "We will need several years to get a sense of what President Elliott will bring to the College."