Features
Nuestras Voces Event Celebrates Bilingual Identity
On Thursday, April 27, 20 students presented poetry and visual art for the second year of Nuestras Voces. Three participants spoke to The Student about the significance of the event for their identity as bilingual students.
This past Thursday, April 27, 20 students presented poetry and visual art for the second year of the Nuestras Voces ("Our Voices") event, organized by Senior Lecturer in Spanish Carmen Granda and her students in LLAS/SPAN-205: "Finding Your Bilingual Voice." Over the course of an hour, students spoke on the topics of identity, connection to home, and the value of names in both English and Spanish.
As a former student of Granda's SPAN-205 class, I am very happy to see this event continue every year. As a bilingual and Latino person, I see, know, and appreciate how "Nuestras Voces" gives the Latinx community at Amherst a platform to share the identities, struggles, and accomplishments that unite us all.
As Profesora Granda said at last year's event, "Being bilingual is a gift."
To learn more about the impact of this event, I spoke with three students involved in Nuestras Voces. They spoke about what writing and sharing their work meant for them.
Jacqueline Tiros-Lezama '26, who read her poem "No ser una niña en absoluto" ("Not to be a girl at all"), described learning Spanish from her parents, who immigrated to New York from Mexico. She reflected on the struggles of communicating with her parents due to the feelings of not being able to speak "fluently" or "correctly" in Spanish. She felt "ashamed" for not being able to speak the language perfectly, causing her to feel "like she wasn't a real Spanish speaker," she said. However, taking SPAN-205 has made Tiros-Lezama "feel more pride in her bilingual identity" despite not being perfectly fluent in Spanish.
"Ever since taking Profesora Granda's class I've come to embrace my bilingual identity. It was the first Spanish class that validated 'Spanglish,'" she said. "My high school Spanish classes would invalidate using both English and Spanish when speaking, but in 205, that was not the case."
Speaking about her poem, Tiros-Lezama emphasized the struggles of being a child of immigrant parents, but also how the immigrant community has helped her throughout her journey. She mentioned how, as a child of immigrants, at a very young age "you have to see the struggles of your parents and others," causing "you to grow up fast." Whether it be "translating documents" or "being the translator at a store," you come to understand "what your community goes through in order to succeed," she said.
"Todavía soy hija de luchadores, cuando ellos ganan, yo gano, cuando yo gano ellos ganan" (I am still the daughter of fighters, when they win, I win, when I win they win"), her poem reads.
Another student, Ashley Sanchez-Melo '23, wrote about the difficulties of being from two different places in her poem, "Colorin Colorado." She reflected on her "two cultures" that make her feel pride despite conflicting at times.
Hailing from Boston, Massachusetts, Sanchez-Melo comes from a Dominican background with Spanish being her first language. She described being part of the ESL program when in school, causing her Spanish to "disappear" when learning English. As a result, she stopped speaking Spanish for a long time even though she still understood most of it. In high school,  "I wanted to speak more Spanish and become better at it," she said.
This was part of the reason Sanchez-Melo felt "inclined" to take Profesora Granda's class to "make a greater effort to speak Spanish." She described how she "hates making mistakes," therefore, "it can be difficult to speak Spanish around fluent speakers because of the self-consciousness."
"But it's important to embrace your identity and heritage," she said.
Sanchez-Melo's poem reads: "Soy de aquí. Pero también un poco de allá. ... Qué raro, tener tanto orgullo para una nación donde no eres ciudadana, donde no eres dominicana" ("I am from here. But also a little bit from there … How strange, to have so much pride for a nation where you are not a citizen, where you are not Dominican").
"I feel so much pride for the Dominican Republic, but I wasn't born there. I am not from there," she said. "But I still embrace the culture, the food, traditions, and my family. I sometimes feel like an outsider when I go to DR."
Michelle Cruz '25, current teaching assistant (TA) and former student of the 205 class, described how her TA position has made her appreciate her bilingual identity.
"I took the class last year and I loved it," she said. "I felt connected to Profesora Granda because of her identity and because she also came from a bilingual background. The class made me embrace my bilingual identity which inspired me to apply for the TA position."
Cruz described how being the TA for 205 has helped her "learn about herself while helping other bilingual students." She felt like she still didn't know a lot before becoming the TA, but to her surprise, she "underestimated her abilities in Spanish, which felt a little ridiculous."
"I feel very happy to see all my students come to life when speaking Spanish. Even when they are struggling, it's really cool to see them try and put in the effort. It inspires me and makes me want to take more Spanish classes to become better myself," she said. "I love my 205 class!"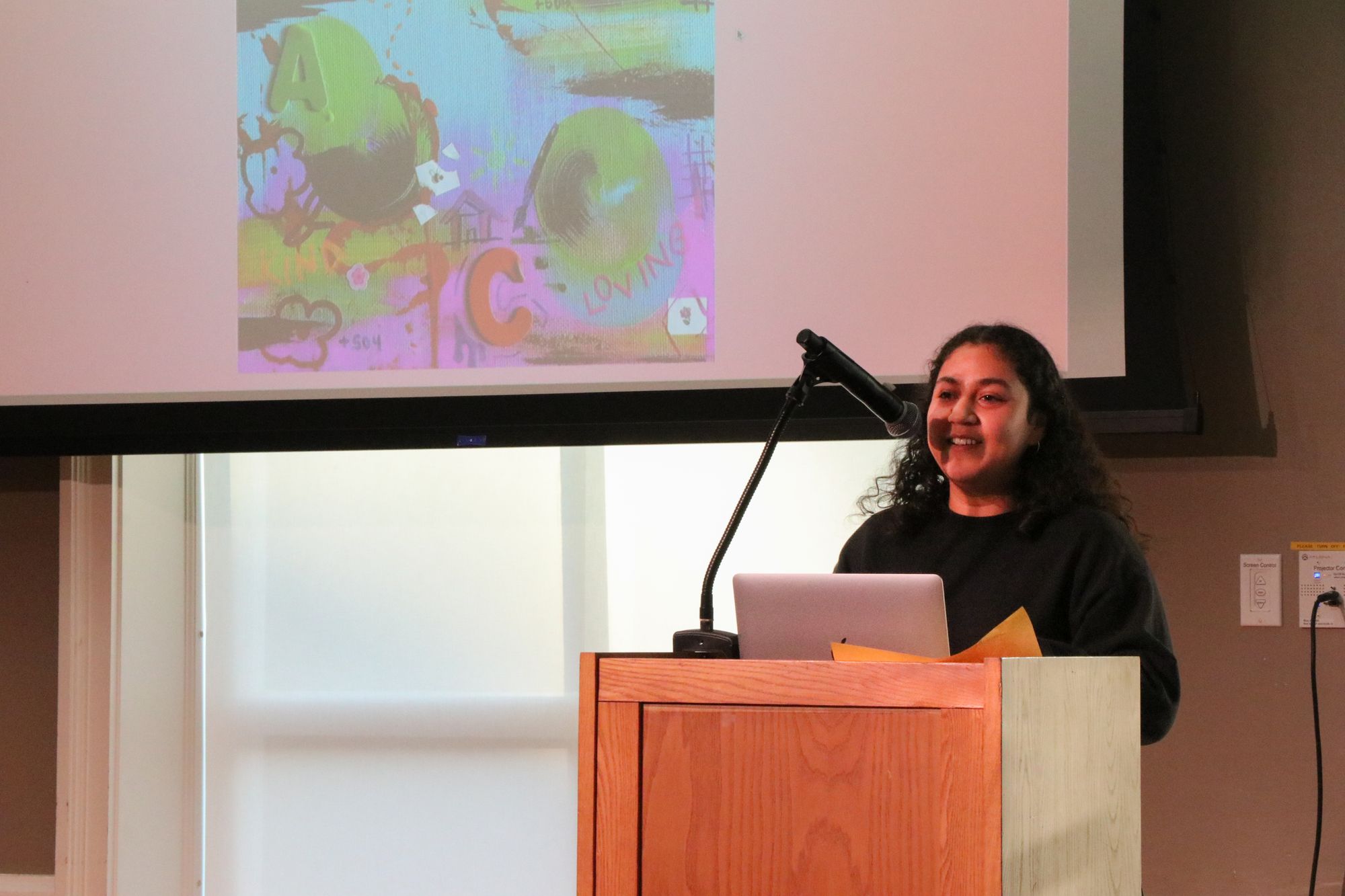 At the end of the event, Profesora Granda stepped on the stage to deliver her poem, which was a composition of lines from all her students' poems.
Granda reflected on the event and felt very happy to have it occur for a second time. "I hope to keep the tradition going," she said. "Thank you to all my current students and former students who continue to participate in this event. You guys truly give a voice to the Latinx community and all the bilingual people at Amherst. Thank you guys!"