Features
Old News: This Week in 1921
In this edition of Old News, Managing Features Editor Sonia Chajet Wides '25 peruses the March 21, 1921, issue, which includes a talk from a dorm's namesake, Student Editorial Board updates, and more.
Each week in Old News, I use a random number generator to select a year in the college's history and take a look at The Student's issue from this week in that year.

This Week's Year: 1921
The March 21, 1921 edition of The Student painted a picture of Amherst one year into the Roaring '20s, with a variety of artistic and political activities. The second page informed me that one paper copy cost 5 cents, and a yearly subscription cost 3 dollars — The Student shipped to anywhere in the United States.
Managing News Editor Leo Kamin '25 brought up a good point in response to last week's column: The Amherst Student used to wear more hats than it does now, in the absence of modern resources like emails, websites, social media, and GroupMe. As with 1976's issue (which I covered last week), this paper served in a variety of additional roles: an announcement board, a calendar, and an advertising center for members of the college and town community alike. I found some interesting details about the Editorial Board's operations, a rousing speech about the need for Amherst students to politically participate post-World War I, a historical retrospective similar to this one, and a variety of mundane but revealing announcements about lost items, baseball exams, parties, and more.
I'm finding it interesting to catch my own historical culture shock — for example, having to remind myself of Prohibition when alcohol is casually referred to as illegal. These small moments of adjustment remind me of the uniqueness of a newspaper as a historical document, so steeped in the context of its current moment and with the aim to inform its contemporary community. It's continually interesting to watch historical moments that I've learned about in classes come to life through the lens of a place I now live. No matter your relationship to the community, I hope these headlines put you in touch with history, too.
The College Man Post-war: President of Andover Academy Alfred Stearns, who graduated from Amherst in 1894, spoke at a "C.A. Meeting" (I'm not sure what C.A. means) and "stressed the responsibility which lies on the college man in the present chaos and turmoil of reconstruction."
Stearns's speech, much of which was published directly in the paper, was rooted strongly in the post-World-War-I climate — which no one yet knew was actually the interwar period. He said that "following the war has come a general breaking down of all standards," that "there is everywhere a feeling of unrest and of dissatisfaction with the old ideals," and that "a contempt for the law has grown." His evidence for the latter is that at a banquet he attended the week prior, people were freely drinking liquor despite the active national prohibition on alcohol. "It chanced that I was sitting next to General Wood at the time," he said, "and the flagrant breaking of even constitutional law made him exclaim 'It is this sort of thing which creates Bolsheviks.'"
In response to this upheaval, Stearns proclaimed that Amherst students had a specific responsibility in reconstruction society, but he worried that they were shirking it. College, he said, "is a poor influence on the man … who has been given entirely over to his self-indulgences. This man comes to school and, with the minimum of work, he spends all of his time on the social, or athletic, or political aspects of college life … the man who has used all of his college years and opportunities merely for cheap political advancement, will go out into the world ready to become a comrade in arms of the ordinary run of professional politicians and tricksters." He instructed current students to seek a role model in his former schoolmate Calvin Coolidge, class of 1895, who was then newly vice president.
Editorial Board Transitions: This edition of The Student gives us a peek into the process for becoming a newspaper editor in 1921: some kind of competition, the content of which is unclear. "The first competition among members of the Class of 1924 for places on the Editorial Board of the Amherst Student will begin immediately after the Easter recess," the front page proclaimed. "Each man will be on duty not more than 18 and not less than 12 issues."
New editors were preparing to come on board after said Easter recess — a new editor-in-chief, business manager, advertising manager, circulation manager, and other general editors.
An article titled "Curtain," reminiscent of our contemporary editors' exit letters, gave senior retiring editors a chance to share their thoughts with the community: "In laying down the reins we have at least one satisfaction, namely, a sense of having done our best ... It has been our intention to interpret Amherst and her problems to the best of our ability, and for that reason we have tried to refrain from destructive criticism of problems for which we could not offer a definite antidote. It has been the goal of our editorial policy in all possible cases to sever connections with the stereotyped forms and to hold breadth of vision as the most valuable of assets … If we were to be privileged to set up a guiding principle for the new Board it would be simply 'Serve Amherst.'"
"Baseball Squad Works Out on Pratt Field": A front-page story revealed the gasp-inducing bombshell that the baseball team had their first workout of the year on Pratt Field that week. On another page, a coach placed an announcement that contained a list of baseball players who had not yet been examined for physical fitness. They were instructed to report to the coach immediately.
Centennial Reflections: As a celebration of the college's 100-year anniversary, the double of which we celebrated last year, The Student published an article titled "Amherst As It Was One Hundred Years Ago." Those authors, like me, thought it "suitable to look at what Amherst was like in her earliest days." The article featured an 1883 correspondence by W.S. Tyler, who was a student in Amherst's first years.
Before There Was AmherstBussin… There was "FOUND": "On the golf course an Eversharp pencil. Apply to A.H. Dakin."
Party News: 1921's Student reported on the prior weekend's parties. Apparently, Delta Upsilon hosted a house dance with 30 couples, plus chaperones from town, with catering and live orchestra music. Not to be outdone, Delta Kappa Epsilon hosted a dance with 50 couples, featuring a different orchestra, but the same catering.
Other Events: A Henry Ward Beecher Club meeting at 9:30 p.m. in a professor's study; The play "The Great Divide" as a joint Smith and Amherst production; An upcoming tour of Amherst musical groups during Easter Recess through Massachusetts, New York, Ohio, Indiana, and Pennsylvania; The campus' weekly church service featuring a hymn composed by Harry S. Woodard of Washington, D.C., class of 1922.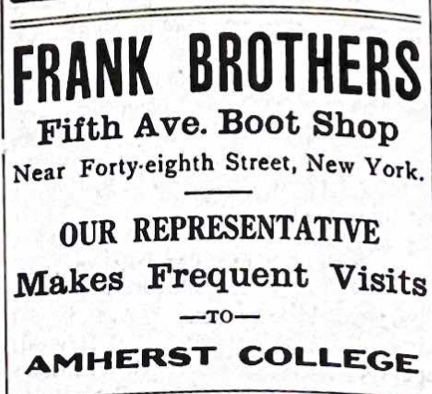 Ads: Among those advertising in the student that week was Wrigley's Gum: "Make the next cigar taste better and after smoking, cleanse your mouth, moisten your throat, sweeten your breath with Wrigley's (5 cents a pack)." Joining Wrigley's was Chesterfield Cigarettes, which took out a half-page ad, The Plaza Hotel and other New York businesses, and Deady's Lunch Cart (open 7 a.m. - 1 a.m.), whose ad read: "Someone said 'This lunch makes me wish that I was a camel. Happy animal; it has several stomachs.' We take great liberties in this quotation, but we feel that it is applicable to the lunches served here."
What did these older articles make you think about? Did they give you any insight about Amherst and the world then? Now? Send your thoughts in at bit.ly/amherstoldnews. I'd love to feature reflections.