News
Overworked and Underpaid: College Employees Report Mistreatment
The college is struggling to fill crucial positions in a number of departments amid a nationwide hiring slump. Staff members report worsening workplace conditions, calling for large-scale changes in the college's treatment of its employees.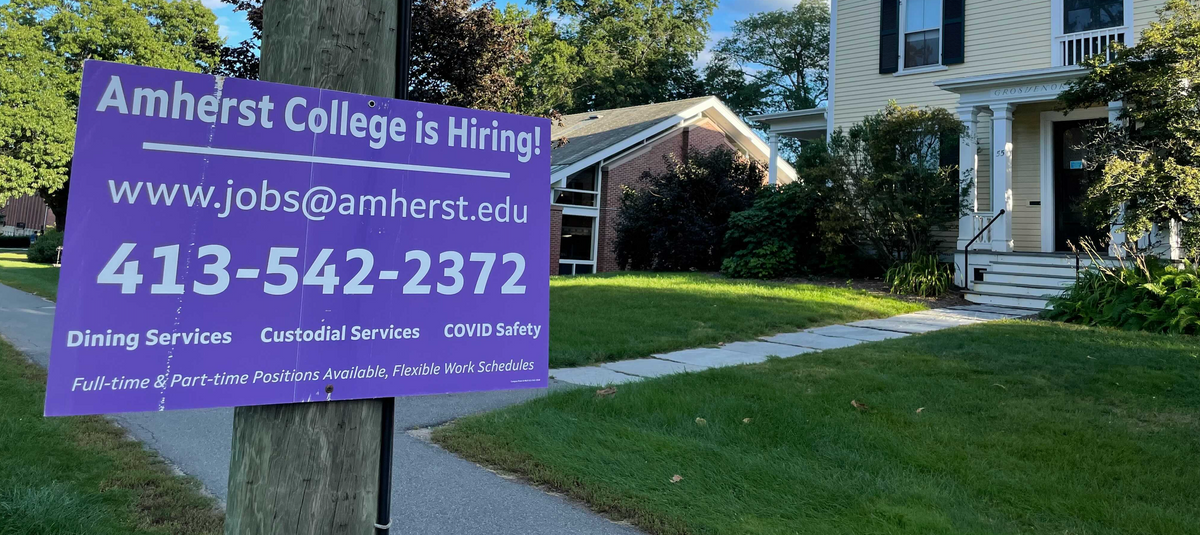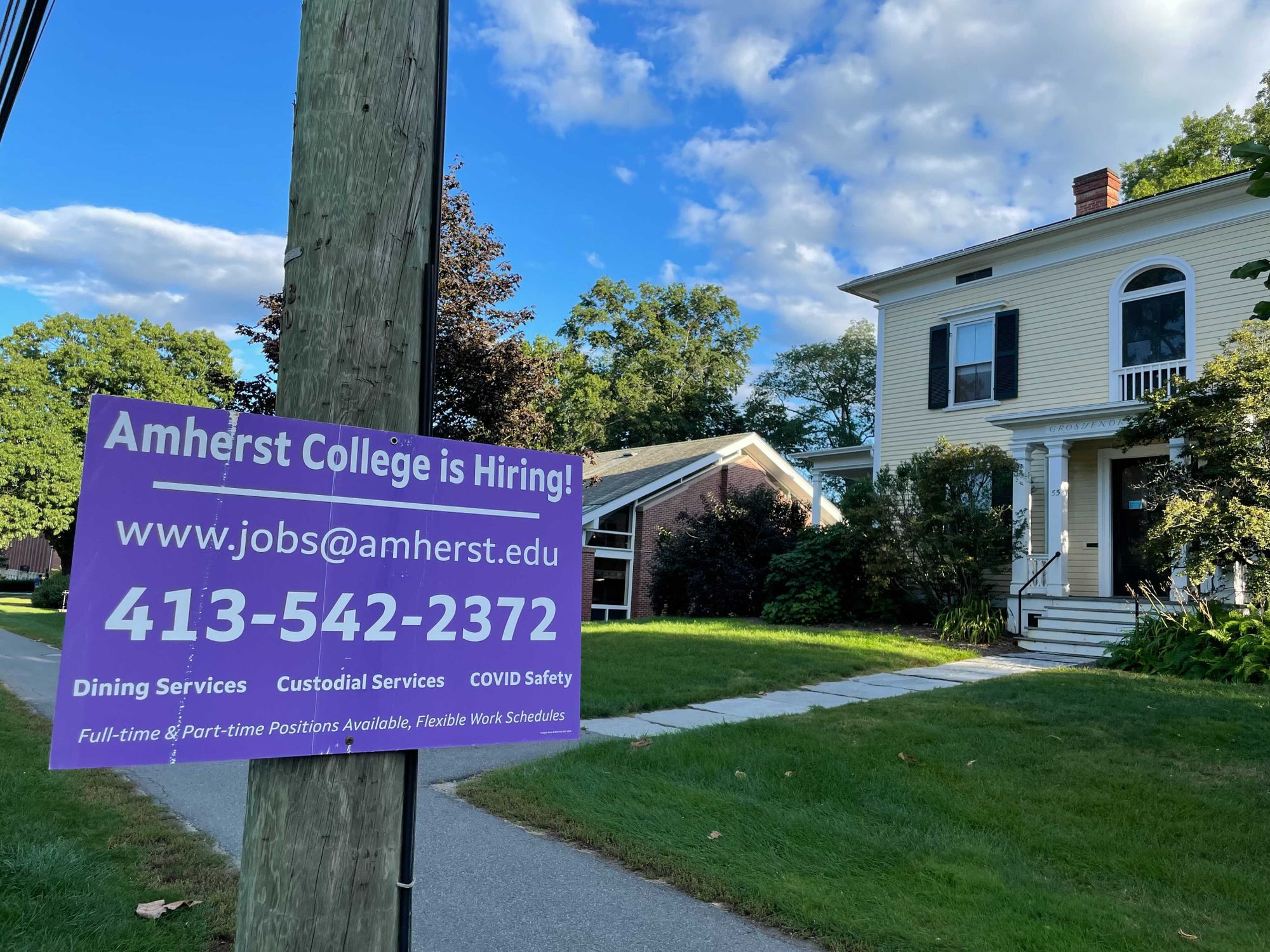 Amid a nationwide hiring slump, the college is struggling to fill positions in a number of departments, including dining, custodial services and Covid safety. As a result, staff members and department directors report worsening workplace conditions, including frequent department transfers and an increase in typical workload intensity. Though staff members are thankful for supportive coworkers, many expressed a deepening frustration with poor workplace communication, inadequate compensation and overwork, and are calling for large-scale changes in the college's treatment of its employees.
The Student spoke with eight members of college staff working in facilities — which includes dining, custodial, and grounds staff — all of whom asked to remain anonymous due to fear of retaliation. Their thoughts on the labor shortage revealed a growing discontent with the college's employment system as a whole, and a heightened awareness of unfair labor practices.
"If there's ever a perception of a labor shortage, I've always interpreted that as a misnomer," said one employee, hereinafter referred to as Employee A. "People will work if you pay them enough. That is not the situation here. We are not being paid enough."
"Nobody is getting compensated for what they are doing extra," said another, Employee B. "And a lack of communication is huge, because of the inconsistency of what's going on. We'll hear last minute. For example, we were told three days ahead of time that we had to work for [new student] orientation. That was kind of crazy."
Several staff members agreed that the increased compensation that they received at the start of the pandemic should have continued into this school year, due to the changing and increasing job expectations that they face every day, not to mention that the pandemic is not yet over. "Last semester, we were making what the college considered a bonus for Covid reasons. Everyone here was making at least $20 an hour at the minimum, which is almost livable for most people. We are now making $15 an hour," said Employee A.
Meanwhile, Director of Custodial and Grounds Services Mick Koldy, Director of Dining Services Joe Flueckiger and Director of Human Resources Chris Casey said in a joint statement that "the college has been very creative and aggressive in providing a wage and benefit program that addresses staff needs and enhances retention," referencing a retention bonus of $1,500 for full-time workers, a referral bonus of $1,000 and an increase in base pay for frontline staff working in custodial and dining. They also stated that they are currently working with the Office of Human Resources to "creatively introduce compensation enhancements that make Amherst attractive as an employer."
Amherst's current situation, characterized by low job retention and a more limited pool of staff, is not unique to the college, the three said. "People across the country have been leaving food service work," they noted. "Restaurant jobs typically have fewer benefits, challenging work hours, are physically demanding and are customer-facing, all of which can make these jobs difficult [and] less desirable. While Amherst College is an excellent employer with a strong benefits package, the available pool of candidates has been severely reduced due to this flight."
Along these lines, some employees brought up the overall sense of low morale in the workplace. Some staff members have found ways to build morale themselves. "It's okay because we're all pitching in. We're a good team and we're all pitching in," reported Employee C, another facilities employee.
According to others, the issue of low morale connects to larger socioeconomic issues that require a broader restructuring on the college's part to address. "Morale has gone down because when Covid came around, we all were working overtime, endlessly, tirelessly," said Employee B. "It wasn't evenly balanced either. There were people who had children, families who got to stay home during that whole time, and there were people who were expected to be here because they didn't fit into that category. The people who were here the whole time are burnt out," they said.
"I would say that morale is another thing that management uses to misdirect our attention," reported Employee A. "'Staff shortage,' 'morale committees,' 'morale' in general, are all used to create a neoliberal climate within this institution. One of the intentions of the neoliberal climate is to allay anxieties that would otherwise lead to action with solutions that are always non-starters."
Some staff members attributed these struggles to the changes brought about by Covid, and others placed them in the larger context of the college's lack of "care" or ability to "listen" to its employees, especially those working in facilities such as dining and custodial services. Part of the reason for this, Employee A noted, is that employees in the state of Massachusetts are "at will" employees, meaning that they can be terminated at any time, for any reason, without legal repercussions. This deters staff members from asking for change that would radically alter the current systems in place, due to fear of retaliation.
This collective sense of mistreatment among the college's employees has been investigated before. The Amherst Employee Council, designed to help increase communication between staff, colleagues, administration, faculty and students, writes on its platform: "The Employee Council routinely hears concerns from constituents about morale among staff on campus. We get the sense that there is widespread frustration and fear in regard to a number of issues." One source the council identifies is "class divisions among staff, and between staff and faculty," meaning that "The Council believes that some morale issues stem from differences in resource allocation across divisions and rank — i.e., that some staff are less likely than others to have their needs and concerns met with the attention or resources they require."
Last September, a similar issue came to light when The Student reported on staff members feeling expendable and replaceable in the face of Covid safety concerns. In 2017, the Employee Council brought up another issue when it submitted recommendations to the college about its treatment of what it calls "casual employees," or employees who have been "hired for a specific period of time" or "occupy a temporary/casual position."
Casual employees do not receive health benefits and are oftentimes paid less than non-casual employees who, according to the employee council, typically have comparable job responsibilities. The council surveyed casual employees on campus and found "most of those surveyed expressed feeling that, as casual employees, they feel like second-class citizens who are not a real part of the Amherst College community and thus feel exploited for their service."
As of January 2018, the college had 1,108 staff employees, and of those, 385 (34.7 percent) were considered "casual employees." The report found that at other colleges similar to Amherst, the percentage of "casual employees" ranged from a low of 13 percent to a high of 23 percent, making Amherst "an outlier with significantly more casual employees than any of the other campuses."
Employee Council Acting Chair Jonathan Doyle noted that the 2017 survey "may be out of date and may not reflect the current state of affairs on campus."
In this present moment, the relevant department heads — Koldy, Flueckiger and Casey — are working to address these issues and find "creative solutions" to keep operations afloat and increase job retention. They have implemented a few central changes to the way that facility jobs run, in order to account for the lower number of staff and increased number of students.
Combined with Covid protocols such as using to-go containers at Val, the unusually large number of students on campus has created a heavier workload for employees taking care of campus facilities. "The conditions changing overall on campus create more work," said Employee E. "The containers from Val, the trash, those things were never part of our responsibility. It's a big deal. It really is."
Other employees similarly reported an increase in the intensity of workload. "I just think the pace of work changed. We're working a lot harder," said Employee F. "It's physically taxing. It really is," commented Employee G.
Due to this change, department heads are beginning to shift employees between departments. "We're all doing stuff that we don't normally do," Employee F reported.
"We come in every day, and [oftentimes] what you thought you were supposed to do changed, because a new regulation came out, or something like that," said Employee G. "And then it's completely different the next day."
"When I first started here, I was like 'I'll probably never serve,'" said Employee F. "Now I serve every day. I started here in the dishroom, and now I'm behind the line, serving and doing other things."
Koldy, Flueckiger and Casey expressed their gratitude for staff members making these shifts. "This flexibility and willingness to do what is needed have contributed to much of the success Amherst has had with keeping the community relatively safe throughout the pandemic," they said.
In addition, staff members reported being encouraged and sometimes expected to work more overtime than is typical. "There's more overtime than there was before, and now there are more instances of mandatory overtime," said Employee B, who has been working at the college for ten years now and explained that this year, they were expected to work Labor Day for the first time during their time at Amherst. "We've never worked Labor Day before. That was always voluntary," they said. "But now I believe that just because everything is so heavy, so much more of a workload, they actually need people here. They can't make it voluntary, so it's mandatory. We all have to come in on Labor Day."
Employees have contemplated what students and other members of the college community can do to help. For one thing, "Do not leave your food all over the table," Employee G said. "Clean up after yourself. This is not how you would eat at home. Is this what you do at your mom's house? No. Then don't do it here!"
Employee H brought up the idea of implementing a program that would designate a portion of all alumni donations to college staff working in facilities like dining and custodial services: either giving them pay raises or bonuses. Facilities are essential to the college and so the people making them run should be treated as such, they said.
Others envisioned the benefits that could come from closer solidarity between students and workers. "When it comes to effecting change, I think one of the most important things that I think about, aside from awareness, is actually involvement with students," said Employee A.
"I wish that there was some kind of cross-class solidarity that we could have, between us working-class people and students, who oftentimes are also working-class. The bond of students and workers together would be so helpful. I would love to foster some kind of communication."