Features
Budget Complicates New Student Center Construction
Staff Writer Emma Burd '26 checks in on the progress of the college's long-term plans for a new student center, finding that a tighter budget and the declining endowment seem to be potential roadblocks to starting construction.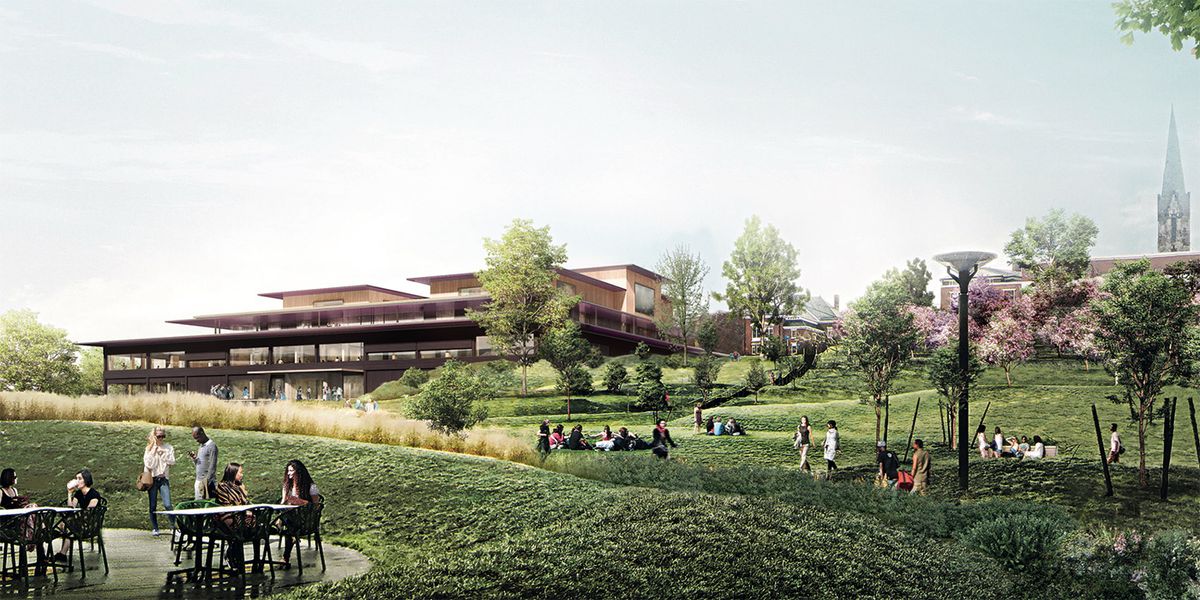 If you've recently found yourself gazing out the glass windows of the science center, strolling down to the rail trail, or making a pit stop at Memorial Hill, you may have noticed an increase in activity by Merrill, the asbestos-ridden old science building on campus.
Plans for a new student center, which would build upon the preexisting structure of Merrill, have been in the works for quite some time now. "The location on top of the old Merrill foundation is a perfect [spot] because of where it will sit between athletics, the first-year quad, the Science Center, and the Greenways," said President Michael Elliott. "I also love the symbolism — although this is not why we're doing it — of building on the foundations of the past, but in an entirely new way."
But between this rich symbolism and the start of construction stands one new major barrier: a tighter budget, due to inflation and a declining endowment.
According to Tom Dwyer, a senior member of the college's finance team, rising interest rates and less predictable market returns are the primary factors complicating the start of construction. "Inflation has been much higher than historical averages in recent years and, at the same time, construction cost escalation has been uncharacteristically high," he said.
While Dwyer said that financial overseers always account for some future inflation when planning a project, and explained the concept of "value management," a process in which engineers determine areas for financial deductions and increased efficiency in construction, he noted that the project is still "currently just a few percentage points over" budget. When asked for the monetary cost of this percentage, the administration declined to comment, saying they are unable to provide an exact number for the budget at this time.
The Board of Trustees will meet in May to determine whether construction can proceed as scheduled. President Elliott reiterated that Amherst is prepared to do only what is most financially responsible for the college, and that beginning construction is always a thought-out decision. "For a while, we knew we would be reaching a decision point at the end of this semester in terms of whether to go forward with the construction now or not," he said. "What has changed is I think that it feels like a harder decision maybe than it would have if we were in the same economic climate that we were in a year or a year and a half ago."
According to Dwyer, if all goes as planned and construction does start this summer, the project is set to be completed by the Fall 2026.
Elliott noted that many of the students who had actively been participating in plans for the center have already graduated, and he hopes that everyone currently on campus understands how much the student body's opinion was taken into account throughout the process. "It's clear that [the architects] listened to a lot of students about what they actually needed," he said.
Tom Davies — executive director of planning, design, and construction — expressed excitement about the architectural design of the center, which he believes will give students new ways to connect with one another. According to Davies, the center will foster a new way of "bringing the community into the building regularly, allowing them to mix effortlessly and to become more aware of many aspects of our diverse community that may have previously been hidden away in some remote corner of the campus."
Herzog and de Meuron, the Swiss architectural firm in charge of the project, planned the center with four main values in mind: wellbeing, engagement, gathering, and creation. Renderings of the building show a flexible space equipped with rooms for dance and prayer, a game area, and a new home for the radio station. The center will also be home to designated makerspaces, a theater, and music practice rooms. Serving as a food hub, the new center will feature a pub, a café, grab-and-go food, and a full-service dining hall. Because of this, the new student center will replace Valentine as Amherst's official dining hall.
The online page dedicated to the center writes that Val "is nearing the end of its useful life." Valentine, which was built in the 1940s, is a staple on campus — for dining, for living, or simply for "Val sitting" — and some students think Amherst won't be quite the same without it. But even though he is an Amherst alum himself, Elliott is able to console himself about the fact that Val will likely shut down in the next four years. "Things change," he said with a shrug. "What makes Val Val is that students go there. We all go there, two or three times a day — everyone is in the same place." In this way, since the new student center will still be the only dining spot on campus when it opens, it will preserve one of Amherst's most sacred and unique community traditions.
Despite the fact that all current Amherst students will have graduated by the time this project is completed, Elliott emphasized that the center will be a home to all Amherst students, past, present, and future. "It has been designed with the student of today, and frankly the student of the next 20 or 30 years in mind," he said.
"It will be the place where everyone wants to hang out, meet, pursue new interests, play, study, and just take in the view," Davies said. "The building [will be] a hub, both geographically for the campus and as a center of campus life."
So, will construction on this building start over the summer? Will it be delayed or canceled altogether? Only time, and economic good fortune, will tell. So, until May … fingers crossed.