commencement
Maya Foster: Improving Institutions Through Care and Connection
Serving as the student representative to many of the college's DEI efforts, Maya Foster's personal "brightness" has perhaps improved as many lives as her work to institute protections against identity-based harm.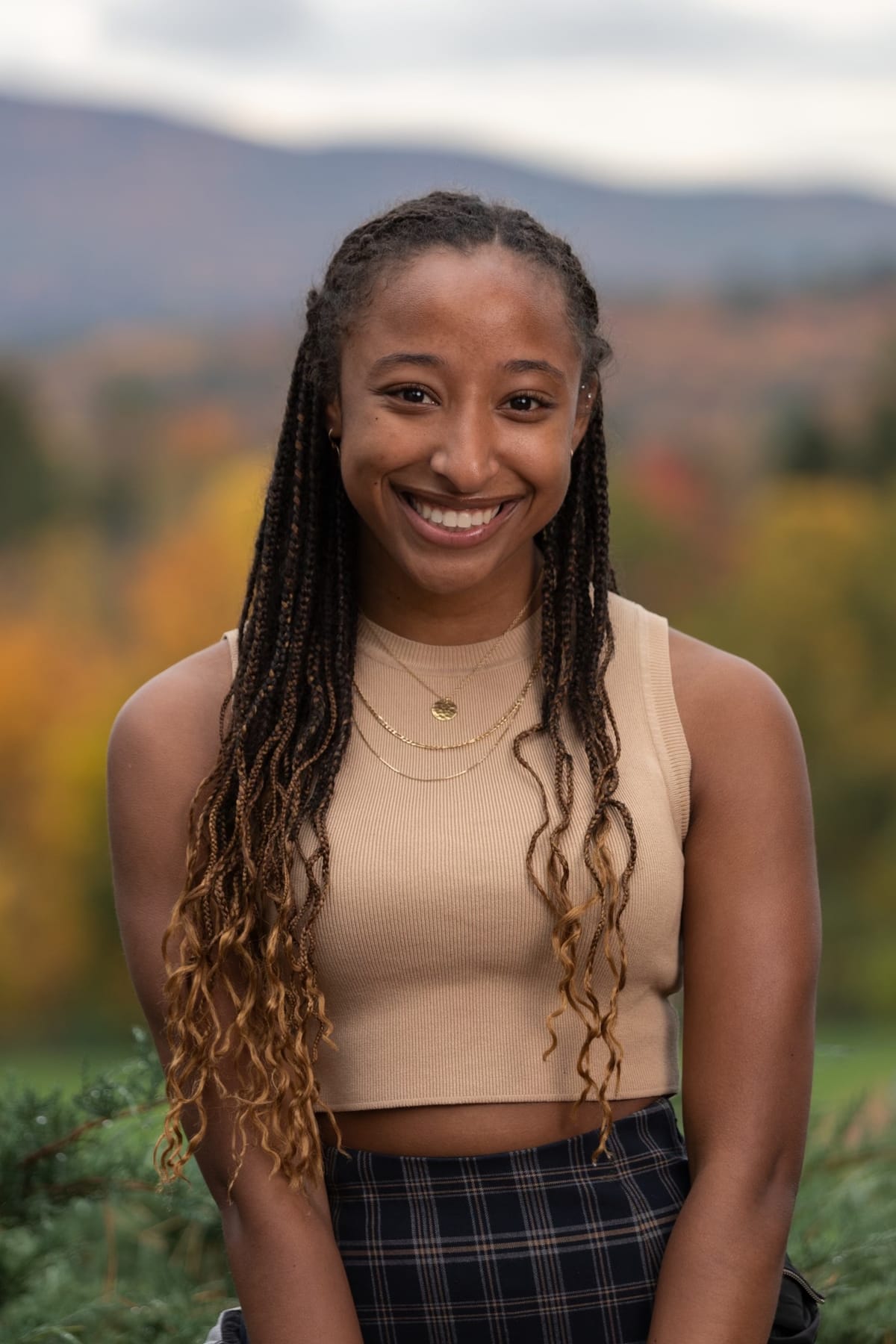 "She makes it seem easy to care about people," said Georgina Omaboe '24. "She makes it feel easy." Omaboe was describing Maya Foster '23, and her words are ones that I, and many others, wholeheartedly agree with.
Even before I began working on this profile, I've seen how much Foster cares about the Amherst community. I had interviewed her on several occasions as a reporter for The Student about the college's anti-racism plan or her role on the Campus Safety Advisory Committee — endeavors to which she brings her characteristic passion and enthusiasm.
This time, I felt lucky to learn more about the genuine love and care that Omaboe talks about, love and care that have driven all of the significant work Foster has done over her four years at Amherst.
It is clear that Foster's dedication to her community has not gone unnoticed. Her efforts to bring people together — particularly evident in her diversity, equity, and inclusion (DEI) work on and off-campus — have made her a cherished member of the Amherst community, within the institution's broader workings but also individual connections and relationships.
Engagement Before Amherst
Foster's childhood in Oakland, California was shaped by her close-knit family. She attended the same high school as her brother, Mercer, who was "well-loved" there. "Everyone knew him — I was always Mercer's younger sister," she said. "I think being compared to him so often would be really hard for a lot of kids, but for me was actually just really lovely because he's just such a great person. I think it really inspired me to want to fill the shoes that he left for me." For Foster, those shoes are "his dedication to making other people's lives better," a role she ever since strived to fulfill.
In the city of Oakland, which Foster described as a "very economically diverse place," she believed that in school, "it was really really important to engage meaningfully with [it] as a community and as a city."
In high school, one of the activities Foster was involved in was the school's Center for Community Engagement (CCE). In this role, Foster brainstormed ways the school could best engage with the surrounding community, planned language trips, and connected seniors to gap-year programs. She ended up partaking in one of these gap year programs herself, living with a host family and working at a preschool in rural Ecuador for a year. Looking back now, she sees this work with the CCE as helpful for shaping her perspective and "frame of reference as a person."
Thinking back on her experience at this predominantly white, private high school more broadly, Foster said, "I think I came to Amherst looking for something that I had been missing there, which was a sense of community. Not only Black community, but also just feeling like I was around people that knew me and understood me."
Now, looking back at her four years and accomplishments at Amherst, Foster said, "I think everything that I've done here has been in search of that feeling, or to try and help other students cultivate that feeling, even after I'm gone."
Getting Involved
Foster is deeply involved in the Amherst community, and has played an important role in many of the institutional changes the college has seen in her time here. But this wasn't something she had set on a roadmap when she arrived at Amherst.
When she first arrived at Amherst, she did know that she wanted to be a psychology major, and that she wanted to continue dancing, as she has for most of her life. "Other than that, I was kind of just open to whatever fell in my lap," she said. "Which happened serendipitously, many, many times."
Talking with Foster and those who have known her at Amherst, however, reveals some of what's behind that "serendipity" — her intention to build community, and the knowledge that strong relationships are necessary to thrive.
"I'm super relationship-focused," she said. "I love finding the connections between the things I'm interested in and the things that other people are interested in."
Foster recalled learning about how to be involved in campus life from the people she met early in her time at Amherst. One significant role model was her first-year community advisor, Jeremy Thomas '21.
"He was always just very good about including me in stuff and making sure that I felt like I had space to do the things that I thought were interesting," Foster said. "I would just be like, 'I have an interest in this thing.' And then Jeremy would tell me that this opportunity existed, or I would read it in the Daily Mammoth, or [something like that]."
A critical moment of involvement for Foster came, she said, in Spring 2020, after three white members of the men's lacrosse team verbally accosted a Black team member using a racial slur. In the wake of this hate incident, Foster, Thomas, and Joelle Crichlow '22 worked to change a number of institutional policies regarding hate speech. Foster wrote the free speech clause of the institution-wide non-discrimination policy, and presented it for ratification at a faculty meeting.
Foster's academic advisor, Professor of Psychology Matthew Schulkind, recalled the efforts of Foster and her collaborators at this faculty meeting. "It's a difficult topic to discuss and faculty meetings are a difficult environment for students," he said. "But … she and her co-presenters crushed it. I've never seen a group of students communicate that effectively in a faculty meeting."
This work was important to launching Foster's now lengthy track record of involvement in institutional change-making.
She has served as the student director of the college's Office of Student Diversity, Equity and Inclusion (OSDEI), which she said is designed to "organize and standardize and [compensate] the [DEI] work that students were already doing" in different departments across the college.
She has also worked as a student representative on the Committee on Diversity, Equity and Inclusion, improving identity-based harm processes and developing new equity frameworks for the college.
This past year, Foster has expanded her work in campus DEI to help launch the new Office of Civil Rights, which will include Title IX as well as DEI. She has served on a number of other student committees and task forces, including the Campus Safety Advisory Committee. In addition, she's worked within the psychology department to overhaul and redesign its "Introduction to Psychology" course to include consideration of race and identity in all parts of the class.
For all four years of college, Foster has been part of BSU and held an e-board position in the organization.
"I would say [Foster] was part of a succession of … intergenerational students who've been working to make Amherst a better place since the Uprising," said Professor of Psychology Allen Hart, who has worked with Foster on a number of DEI initiatives. "She really is carrying on the mantle of folks who have come before her." He added that she has both "been great about continuing the momentum that she inherited" and "passing it on … to those who come next."
Reflecting back on what this institutional change-making work has meant to her, Foster described her ambivalence: "I have loved a lot of the work that I've done," she said. "I have also felt at many times, the college has profited in some way … off of the work that students do. And I think I have been one of those students."
Thinking back on the sum of all the work she has done at Amherst, though, "I can see that a lot of the stuff I've done has made an impact on the community at large," she said. "And that, to me, makes it all worth it. Because if I had to lose a bunch of hours of my life so that other people could be protected in the classroom from hate speech, then I don't care. I'm glad that I did that anyway."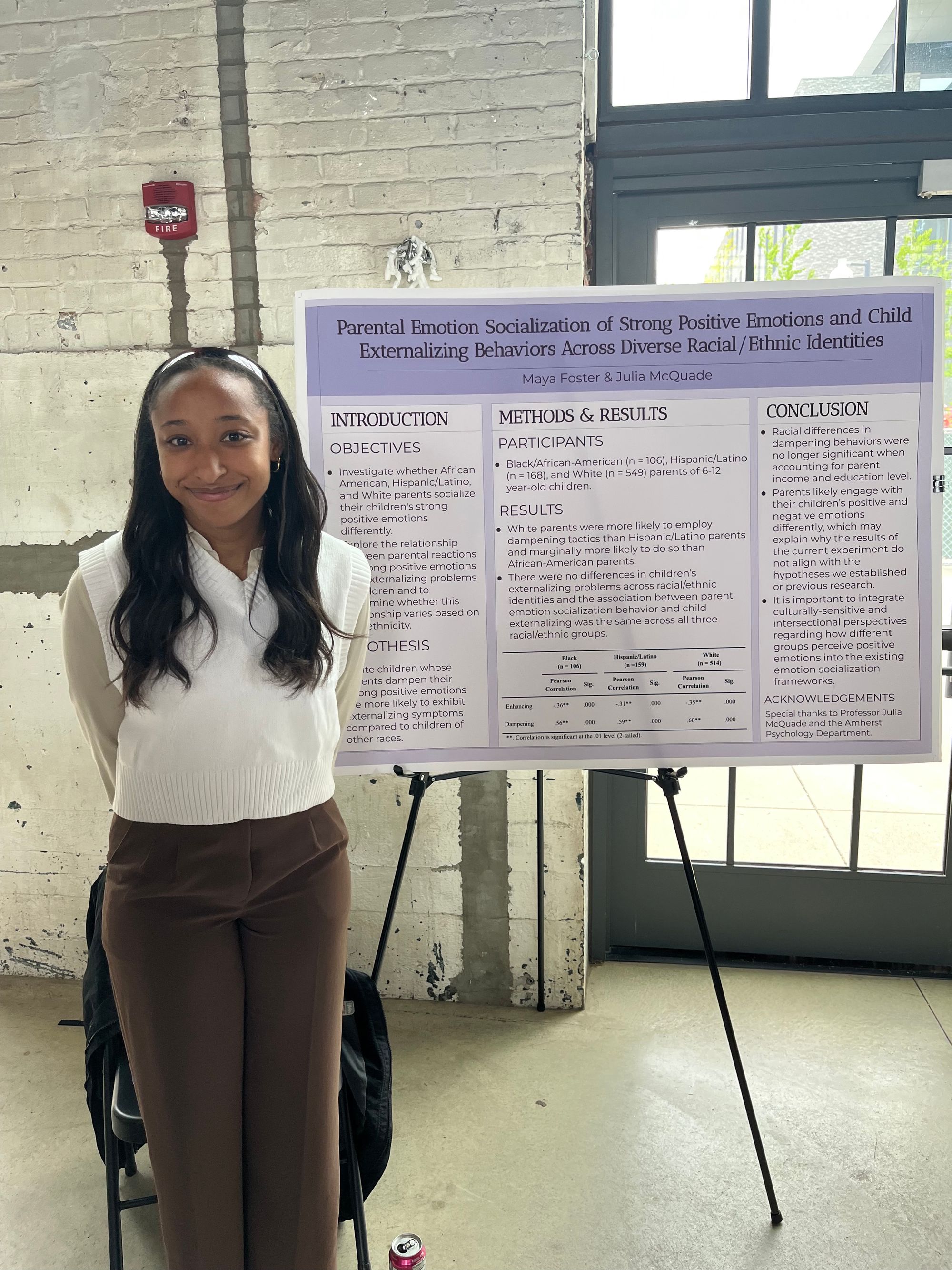 Connections and Relationships
Many of the people I talked with while getting to know Foster expressed admiration for her dedication to making the college a better, safer place for students.
"Maya Foster is an unparalleled student leader," said Angie Tissi-Gassoway, chief student affairs officer and dean of students. "Her dedication and contributions to the work of DEI at the College has a tremendous impact on our community and will leave a lasting legacy as she embarks upon her next adventure."
Given this level of involvement, it makes sense that Foster would "struggle with not having enough hours in the day." But, she jokes, "somehow I still find time to be on TikTok for two hours every day."
Many people I talked with noted Foster's sense of humor and friendliness. These aspects of her personality demonstrate how her care and dedication run deep — they extend into her individual relationships, grounding the institutional-level work she has accomplished.
As Omaboe put it, "I couldn't possibly tell her about something that I'm doing, or that I care about, or that I'm thinking about that she will at least check back in with me on, or take genuine interest, or even just Google [it]."
Laurie Frankl, director for civil rights and Title IX coordinator, reflected on her experience working with Foster. "One of the joys of working with Maya is that one minute you are engaged in the hard work before us, the next you are discussing the Superbowl halftime show — which I watched just so that I could keep up with the conversation — and from there, Maya will excitedly offer her researched-based insight about pre-teens — I have two," she said. "Maya is a bright light."
Omaboe reflected on this brightness, too, recounting the time she got a concussion and Foster helped out by emailing all of her professors, letting them know that Omaboe would be unavailable while she healed. "All my professors, when I met with them after I recovered, were like, 'You have an amazing friend in Maya Foster,'" she said. "I've never had more fun being concussed in my life, than hanging out with Maya in a dark room."
Even knowing all the impactful work she did, Schulkind said "What I value[d] the most was the opportunity to get to know Maya as a person. Office hours were challenging. She had a lot of questions and they always made me think … I believe that there were semesters when we discussed every course in the catalog."
Omaboe agreed that this sense of care is what sets Foster apart. "[Whether] things go well, or things go badly, she genuinely is feeling it with me," she said.
But, in Foster's opinion, she has gained as much as she has given in her time at Amherst. "I've found so much community in spaces like [the Black Student Union] and [Charles] Drew [House], which are obviously very Black spaces," she said. "I'm really proud that I've been in DASAC and on BSU e-board all four years. Those are two things that mean a lot to me."
"Being in that community makes me really proud," she added.
Some of what she has done, she said, "were also selfish endeavors where I wanted to feel like I had a sense of community. But I think everything that I've done with OSDEI and diversity at the Mead, and campus safety stuff — all of that stuff has been because I wanted community, and because I wanted other people to feel that too."